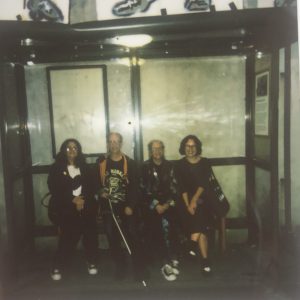 Mind Waves were lucky enough to receive a selection of free tickets to the Banksy Cut and Run exhibit at the Gallery of Modern Art, Glasgow which is running until August 28th. The exhibition displays a collection of Banksy stencils ranging from 1998 to 2023 and are accompanied by captions and stories detailing Banksy's career and written by Banksy themself!
On the exhibition, Banksy said (with their trademark humour) – "I've kept these stencils hidden away for years, mindful they could be used as evidence in a charge of criminal damage. But that moment seems to have passed, so now I'm exhibiting them in a gallery as works of art. I'm not sure which is the greater crime"
We met outside the gallery on Tuesday August 1st, and were ushered into the exhibit after having our phones locked away in sealed pouches. We spent an hour wandering around the exhibit, reading every accompanying caption and trying to find some clues about Banksy's identity. There was so much to talk and think about, and the themes of Banksy's work are so wide-ranging and inspiring. We also got a great souvenir polaroid taken of the group by a friendly member of staff.
After we looked through the full exhibit (and had our phones unlocked!) we were all buzzing with things to say, so we grabbed a coffee and a cake in the cafe. We talked about how political Banksy's work is, how you can see punk influences in a lot of his art, as well as many other things. We stayed in the cafe for over an hour chatting before we said our goodbyes.
I think it's fair to say that everybody had a great time, and left the experience being a fan of Banksy, even if they weren't one before. Get a ticket if you can!