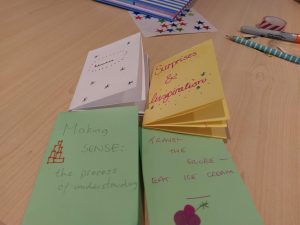 This week we held our first ever zine making workshop.
Illustrator and zine maker Sarah Cochrane came along to teach us what zines are (mini magazines), how to make them and how we can use them to share our ideas about mental health and wellbeing.
It was a fantastic afternoon with a really relaxed atmosphere and a great bunch of people. We started off making fast, collaborative zines to take away the fear of a blank sheet of paper.
Then we moved on to making our own individual zines about something that's important to us. There were some brilliant zines created on the day. We'll share them soon, but in the meantime, here is some advice on getting started with zines from Sarah.
How to fold a zine:
It's easier than you think to turn a simple sheet of a4 paper into an 8 page zine using only a pair of scissors. Here's a great guide to how to do it.
Ideas and prompts:
There are loads of kinds of zines. Here are some ideas to try:
Perzine: a personal experience of something. You could share your story of recovery, things that help or how it feels when your own mental health is poor
Fanzine: create something that celebrates something you love- a favourite TV show, film, band etc
List zine: a simple list e.g where to go for help, what helps on a bad day, helpful resources you know about
Creative writing: use your zine to share narrative, poetry, comics. Try inventing a character or decide what powers your superhero would have
Mini manifesto: what changes to see?
What next?
Put your zine out into the world. Photocopy it and share paper copies or photograph or video your zine  to share it online.
Want to know more?
Glasgow Zine Library
Edinburgh Zine Library
Glasgow Women's Library
Watcha mean what's a zine? by Mark Todd and Esther Pearl Watson
Make your own fun by Kristyna Baczynski