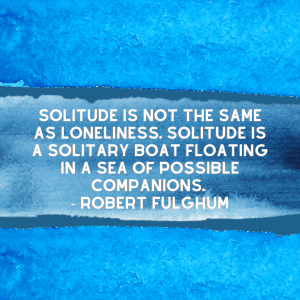 With this years Mental Health Awareness Week theme being loneliness, I reached out to our volunteer community correspondents and asked them to share their thoughts. Hilda wrote this useful piece which discusses the importance of communication, connection and purpose, and also links to several resources on the COPE Scotland website. Her words are below.
A sense of purpose can help us to feel less alone.
We recognise that feeling lonely and isolated can have an impact on our wellbeing. If we are already facing life challenges and feel we have no one to turn to, this can make us feel even more vulnerable. We may not want to be labelled, isolated or lonely so even if we have people in our lives, we put on a happy face pretending all is well, when in fact, it is not.
How often we assume being lonely means we do not have people around us, and yet, sometimes we can feel less lonely when we are alone. The quality of our relationships, our ability to be our authentic selves, determine just how strong these connections are. We are all aware of the opening line of 'how are you doing?' but we know that it is just a greeting, not a real enquiry. Sometimes we might have even tried to share that we are, ''not okay'', only to watch the other person's eyes glaze over! Or the general 'have a lovely weekend' when you feel your life is falling apart and a lovely weekend is the last thing you will be having. Followed the next week with 'did you have a nice weekend?' where either you say nothing or invent something as it does not feel safe to open up, and share what really happened, as the question was just small talk, or we think by admitting our weekend was not wonderful, we are somehow letting the side down.
Now any of us might feel isolated sometimes. Maybe because we do not have others in our life, or the people we do have are not people we can truly turn to for support. Maybe we don't even want 'support' as we are fed up feeling down, and fed up of thinking and talking about what is bothering us. Maybe we want company to do something fun with! It may be we have ideas to build a kinder world but cannot find anyone who shares our dreams and values; that too can leave us feeling isolated. There are so many reasons why we can feel disconnected to others. There are downloadable tips on the art of conversation at www.cope-scotland.org which may be of interest.
As well as others being that connection for us, we can be a connection for others, ensuring there is balance. It is important that we do not become the person that always supports others, but when we need help… there is nobody there. We all need trusted others in our lives and this starts with us looking after ourselves. Self-care matters always, but especially when we are feeling lonely. If you find you are always giving to others and have little left for yourself, check out the tips on setting boundaries at www.cope-scotland.org
There are things we can do which can help. If you want to reach out, you could send someone one of COPE Scotland's customisable kinder conversation postcards which can be downloaded and saved. Add your own message and email to someone to let them know you care. The postcard can be used as an invitation to start a conversation. You can edit the postcard and send to as many people as you like, even saying ''hi, I am thinking about you'', can make someone's day. Find the postcards by clicking here.
Having a sense of purpose matters just as much as having company. Finding out what matters to you is a place to start. On the COPE Scotland website, there are a set of life purpose affirmation cards which may offer inspiration. Download the pack by clicking here.
If we find that we do not have the connections we are seeking, take a moment to really think about what  we are looking for, and why? What is it that really matters to us? Find time to understand who you are; some of us are extroverts and need to be around others to feel energised, some of us are introverts and enjoy our own company. What matters is finding something which works for you. Remember, you matter, also you will not be the only person who feels this way. There are other people seeking to build more positive connections with others, it may take time to find them, but they are there.
It can also be helpful to take time to reflect on what we mean by happiness and contentment. Being happy and being content are not necessarily the same thing. Some people may need to climb Everest to find meaning in their life, for other people, it might be a hill walk, or a new book, or baking banana bread and sharing it with a neighbour.  Sometimes, finding pleasure in the little things can allow us to find more meaning in the everyday.
It is also good to remember that we share this planet with the natural world and reconnecting with nature can offer us a sense of purpose and a connection to something so much larger than ourselves. You could even create your own wee sensory space indoors or out, on the COPE Scotland website is a little booklet you may find of interest. Click here to read about making a sensory space. Joining a community allotment can be another way to connect with others. Many allotments are seeking volunteers, check out what is local to you! There are more options to connect with others than we often realise.
This year (2022) Mental Health Awareness week ran from 15-22 May and the theme was loneliness. Read more from the Mental Health Foundation and check out their report on loneliness by clicking this link.
We'd love to hear from you! If you have any ideas for a blogpost or would like to be interviewed for the Mind Waves podcast, get in touch with me at maddy@mindwavesnews.com