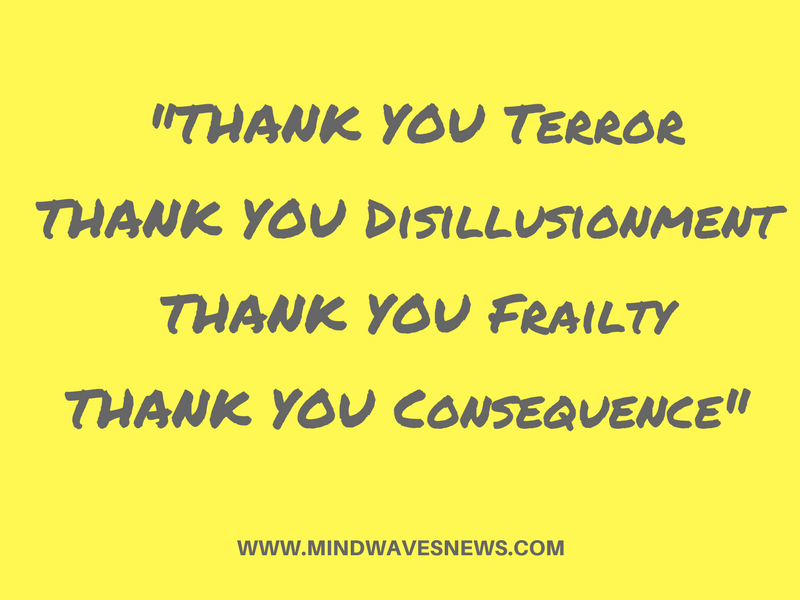 Community correspondent Marilena loves music, and finds a lot of positive messages in her favourite songs.  She has created a mix-tape of 13 songs with interpretations of the positive life messages to be found in each.
---
Gratitude
Thank U by Alanis Morissette
My understanding and my interpretation is in relation to Alanis' experience in India. It is about the process of understanding everyday gratitude by viewing reality through a non-egoistic prism and accepting negative side of life as an integral part of it.
Thank you terror
Thank you disillusionment
Thank you frailty
Thank you consequence
Secondary themes are the need for changing subtle self-destruction,
How 'bout getting off these antibiotics
How 'bout stopping eating when I'm full up
and the need for a higher sense of purpose that can drive us forward,
How 'bout them transparent dangling carrots.
Letting go of the ego basically can help us understand and accept the greatness of the soul and divinity and true human nature.
Thank you India
Thank you providence.
---
Hope
Unpretty by TLC
It is a song where others are not the ones that really make the singer insecure, but herself,
At the end of the day I have myself to blame.
Because when one is convinced about his or her own unworthiness, then the real problem begins.
But there is positive, hopeful side to the song as it is focusing on the perception one has for his or herself as the important one.
Look into the mirror who's inside there…
---
Letting go
Don't Look Back in Anger by Oasis
Although this song seems to refer to a break up, we can loosely interpret it in relation to anyone's life. The major themes are nostalgia, memories, regrets, and anything you left behind but still have second thoughts.
Slip inside the eye of your mind
Don't you know you might find
A better place to play?
For me this is about the place we have within, a more sacred place that can lead to forgiveness. Maybe it is even a reference to the 3rd eye as reality is always the one that 'fades away'.
---
Resilience
Titanium by David Guetta ft. Sia
It is definitely a song about the importance of inner strength and resilience. Whatever happens in life a strong heart is the one that will get us further,
You shoot me down but I won't fall, I am titanium
It is about not paying attention to people who want to put you down. Hurtful words are presented as bullets and guns. Basically, we should not worry about others' negativity, it is theirs after all.
You shout it out
But I can't hear a word you say
Sometimes others'  bad actions, will hurt them more if we choose to protect ourselves. It is a song that acknowledges the fact that only hurt people hurt others.
Cut me down
But it's you who has further to fall
Ghost town, haunted love.
---
Positivity
It's a Beautiful Day by U2
It is about the everyday beauty that sometimes we do not appreciate. It is about living life at its fullest.  It is that we are so tied up with our thoughts that we fail to find it and it is a great song to start your day with!
It's a beautiful day
Don't let it get away
Even if the circumstances are not on your side you can always change your perspective
The traffic is stuck
And you're not moving anywhere

Touch me
Take me to that other place
Teach me.
---
Courage
Hero by Mariah Carey
Real change comes from inner strength and courage. After all, it is not feasible to always be provided with external help.
So when you feel like hope is gone
Look inside you and be strong
And you'll finally see the truth
That a hero lies in you.
---
Acceptance
Dark Necessities by Red Hot Chili Peppers
Through this song, we can see that it is important to embrace and acknowledge our ´dark side´ in order to be able to live without regrets.
Coming out to the light of day
We got many moons than a deeper place
So I keep an eye on the shadow's smile
To see what it has to say
Also it focuses on how people judge someone easily. "You don't know my mind" We are so much more than what people think even our closest friends will not be able not know us fully. It can also be translated as a true understanding of ourselves in order to fully be able to accept who we are in order to get better.
Do you want this love of mine?
The darkness helps to sort the shine.
---
Living life
It's My Life by Bon Jovi
We only have one life and we should not waste it because of others' expectations. We should have faith in ourselves and live our life to the maximum.
You're gonna hear my voice
When I shout it out loud
It is about decision making and living life with passion.
My heart is like an open highway
Like Frankie said
I did it my way
It is about living fully having in mind that we are not going to be here forever.
I just want to live while I'm alive.
---
Soul over mind
Where is the Love? by Black Eyed Peas
In life, we often get overwhelmed with the chaos in the world. Often we might get desperate and think that we are incapable to change or control the situation. The song suggests to not waste your energy on the things one cannot control but focus on internal peace that can help us get through this crazy world.
Take control of your mind and meditate, Let your soul gravitate to the love, y'all, y'all
Also it focuses on the dark reality but acknowledges that individuals reinforce it.
People livin' like they ain't got no mamas, I think the whole world addicted to the drama, Only attracted to things that'll bring you trauma.
---
Persistence
Tubthumping by Chumbawumba
I get knocked down, But I get up again, You're never going to keep me down.
Enough said.
---
Choice
You Gotta Be by Des'Re
What to we have to be in order to face life? What are the goals and what mindset we need to have to succeed them?
Challenge what the future holds
Try and keep your head up to the sky/The world keeps on spinning
You can't stop it, if you try to
This time it's danger staring you in the face.
---
Altruism
Not Afraid by Eminem
We'll walk this road together, through the storm
Whatever weather, cold or warm
Just letting you know that you're not alone
Not everything can be achieved when we are alone. Others are important in our lives and hard times make us not only be able to help ourselves but others in need too. Also, we have to take the decision to be on the right side, with the ones that aspire for change and help others , instead of those who passively accept reality. We first though have to take care of ourselves.
So starting today, I'm breaking out of this cage
I'm standing up, I'ma face my demons.
---
Believe
Don't Stop Believin' by Journey
Believing in a better future one can bear all and especially another chance to a better life.
Paying anything to roll the dice just one more time
Yet, life is hard and this song is mostly focusing on this.
She took the midnight train going anywhere

He took the midnight train going anywhere.
But besides that …. Don't stop believing.
---
We'd love to hear your thoughts in the comments on the songs above, and songs you feel have an inspiration message.