Professor Tom McMillan, part of the team that trains psychologists at the University of Glasgow, has some surprises to reveal if you ask him about acquired brain injury (ABI). Mind Waves attended an ABI Seminar at Ceartas Advocacy's headquarters in Kirkintilloch last week where Professor McMillan was presenting, and although there is some fantastic work being done in the area of ABI, there is room for significant improvement.
The seminar was arranged in response to questions raised by ABI Café: a monthly gathering of people affected by ABI in East Dunbartonshire, who wanted to raise awareness of ABI, to make professionals think about the effects of brain injury, and about how they can help to improve things for people with ABI.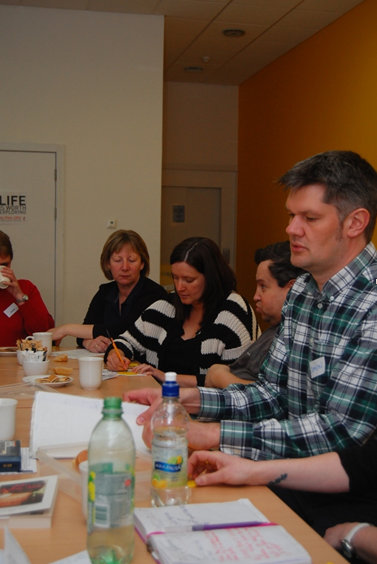 ABI Café
The issues that ABI Café wanted addressed were:
We want to improve professionals' knowledge and awareness of ABI.
We want them to know about the long-term effects of ABI
We want them to know that ABI is a hidden disability.
We want them to know how to work effectively with someone with an ABI.
It is a measure of the strength of user involvement around this subject that Professor McMillan used his keynote address to directly answer these questions, and he produced some surprising facts in his presentation:
Figures for the incidence and prevalence of ABI can be misleading because of the way hospital cases are recorded for statistical purposes: if someone is admitted after a fall, an assault or a road traffic accident, and they have a head injury as well as other injuries, their admission may be recorded under the other injuries and not as a brain injury. In Scotland, alcohol is a factor in 60% of ABIs, a much higher proportion than in the rest of the world.
Although there are some commonalities in what parts of the brain usually suffer damage (some parts of the skull are closer to the brain and have less 'padding' from the meninges), no two brain injuries are the same, because no two people's brains are the same. Individual brains recover in different ways, and although recovery from the initial injury is usually improved at six months or so, the prognosis at five, seven and twelve years down the line is for a higher likelihood of disability than for the general population. Factors which drive this seem to be social more than medical: low self-esteem; social deprivation; stress; and feeling a lack of control over their lives.
As mentioned above, people tend to recover externally from whatever incident caused their brain injury. But the long-term effects of an ABI are often hidden from view: the memory issues, the problems with thinking and problem solving, mood and emotional disturbances, even things like depression and epilepsy which are common following an ABI. All these factors play out not just with the individual concerned, but with their friends and families, carers and loved ones. This means that not only does the individual have a brain injury and its after effects, because those after effects are hidden they have a social cost – people thinking they are 'a bit weird', or 'moody and irritable'.
Professionals are expected to adapt to work with people with different abilities: they would not hold a meeting in an upstairs room if you were in a wheelchair, so why would they hold a meeting with someone with a brain injury in a noisy, crowded, distracting environment? There is guidance available for professionals, they should read it, understand it, and use it in their practice.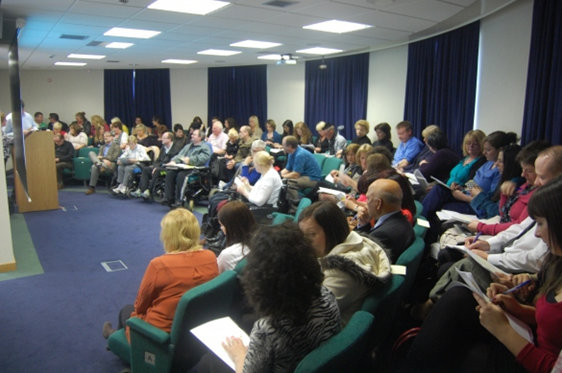 ABI Seminar
Mind Waves caught up with Pam Thomson, User Involvement Worker at Ceartas who organised the seminar alongside Headway Glasgow. Pam said "We are delighted with the number of people who turned out, especially since this is a user-led event. Our evaluations show that people's expectations were met, and that we have a good basis here to build upon in achieving the ABI Café's ambitions. We hope that we can keep up the momentum across the year, and maybe we can do something similar again next year?" We certainly hope so.
Story by R. Hunter