A guest post by Marie Gallagher (@FuzzyPeachGirl) 
I recently came across Boring Self Care on Twitter and, delighted by the illustrations,  started folllowing the Instagram account of artist and mental health activist, Hannah Daisy (@makedaisychains). Hannah draws activity badges which take me back to my days as a Brownie Guide but thankfully, for these ones, you don't have to learn semaphore or wear them on a sash whilst dancing round a plastic toadstool. Her badges represent small completed acts of self-care as an achievement worthy of recognition.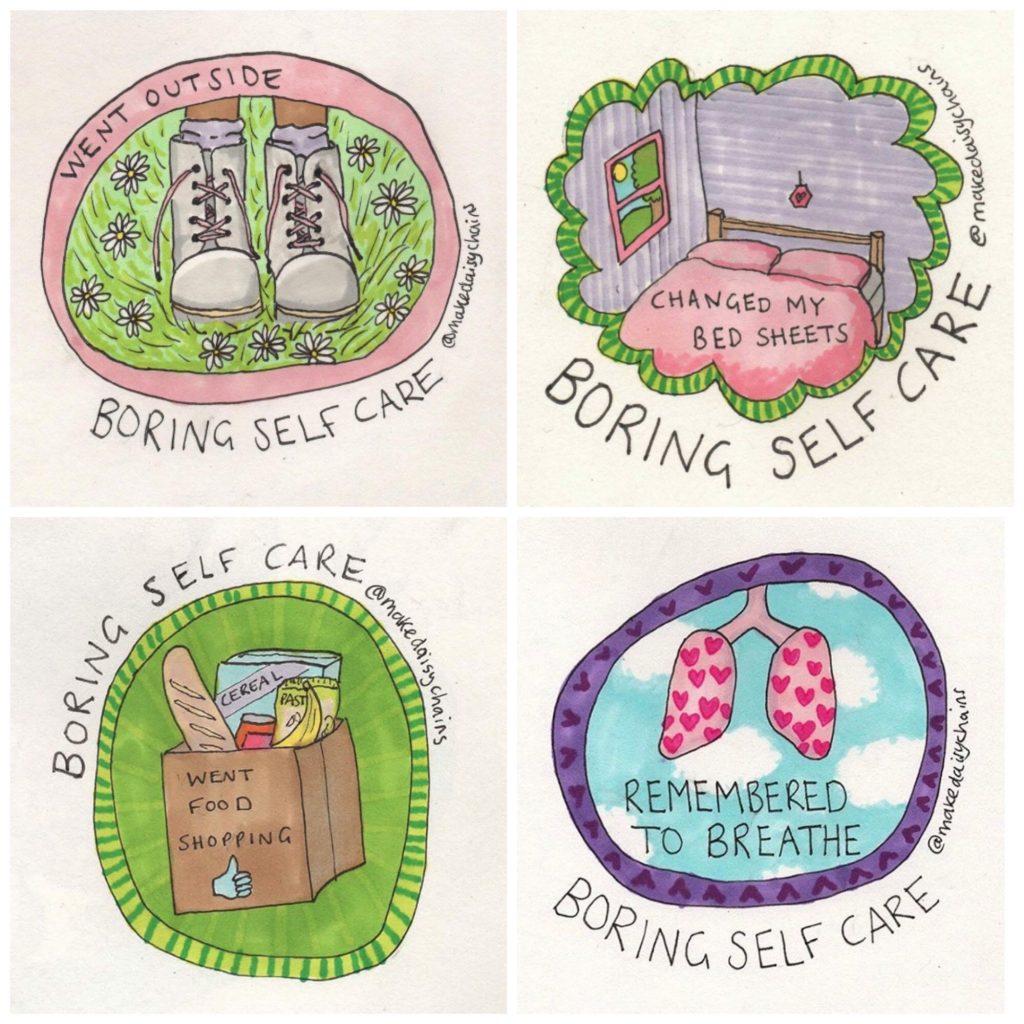 I am massively appreciative of Hannah's back to basics approach to self-care. The illustrations show how the smallest chore can seem like a huge challenge for those  of us with mental health difficulties or other chronic health conditions. When I have been severely depressed I have often mentally beaten myself up about all of the things I haven't done,  yet I have rarely praised myself for the small but necessary things I have managed.  Stepping across the door when I am mentally ill is, without a doubt, much harder than having a to-do list the length of Hadrian's wall when I am well. Boring Self Care encapsulates this with simplicity and a sense of empathy.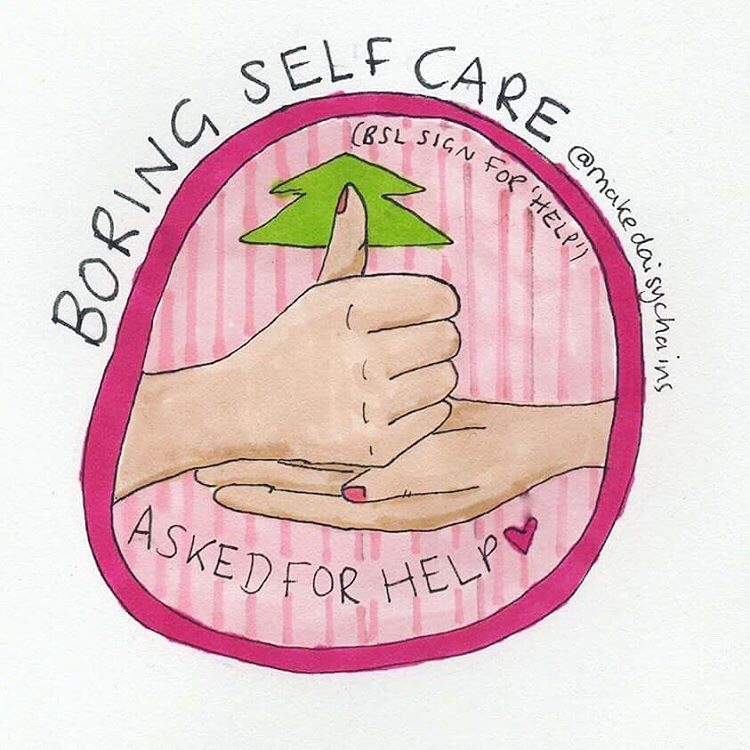 The inspiration behind Hannah's project partly came from her work as an Occupational Therapist.  She was aware of the gulf between misguided ideas of self-care portrayed in the media and the everyday reality for her clients.  Indeed, Boring Self Care is an antidote to the commercialisation of self-care which has caused it to be confused with self indulgence.    Instead, Boring Self Care could be described as gentle self-discipline.  The pictures perfectly capture how looking after ourselves can require going out of our comfort zone.    My favourite badges include tasks which are not in the least enjoyable but, when complete, will instantly make me feel better e.g. 'made important phone call I have been putting off' or 'went for smear test'. For me, 'did my banking' is probably top of my Boring Self Care wins. Poor money management has been a cause and symptom of mental illness in my life, so spending mindfully and budgeting has been a much bigger act of self-care than buying stuff I don't need.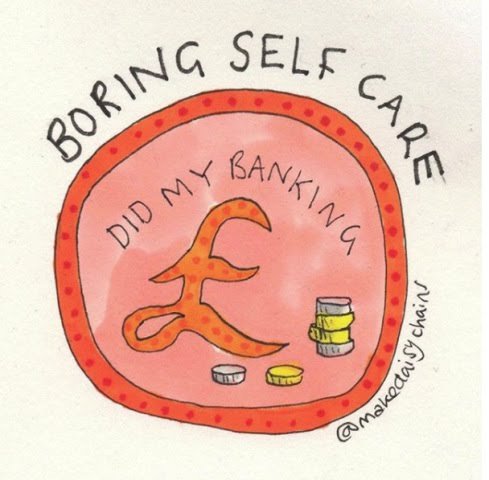 Boring Self Care is not just about practical tasks either. I love the badges which signify the importance of self expression and seeking support from others e.g.  'asked for help', 'communicated how bad my period is', 'was honest about how I feel'. Some are also about treating ourselves more kindly which can be particularly difficult if we feel that we don't deserve to be happy or well.  e.g. 'let myself cry', 'listened to my body', 'balanced my activity'. Boring Self Care tells us that these truly are personal achievements and that acknowledging them as such is vital if we are to treat ourselves with more compassion. The fact that Hannah has celebrated everyday tasks with such warmth and kindness makes Boring Self Care extremely empowering and anything but mundane.
 Follow Hannah on Instagram and Twitter (@makedaisychains) or visit her blog www.hannahdaisy.com for more #boringselfcare