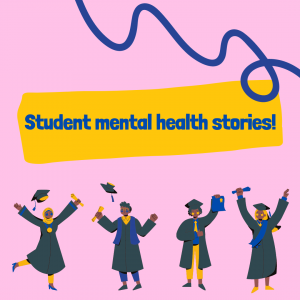 This week we're continuing our series on student mental health, inspired by the Think Positive Hub, a website designed by NUS and Mind Waves. The online hub brings all of the projects, services, resources and news relating to student mental health together in one place, for students and those who support them to easily access. Read on for Chris' student mental health story. 
Before I started university, I didn't really like doing creative things. I have always put a lot of pressure on myself to do everything perfectly, and I wasn't very good at giving myself space to make mistakes, which is a really important part of being creative. Because of this, I was originally going to do computer science at university. I liked the rigidity of it, it was easy to work out where I had gone wrong and how I could improve.
Entering my last year of high school, I was feeling really burned out. I had pushed myself too far in my fifth-year exams and I was feeling negative and overwhelmed. At this point, my mental health was very poor, and I was looking for an escape; I wanted to find something that I enjoyed and when I applied to university, I decided to do English Literature and Sociology last minute. These subjects combined my love of reading and my interest in improving the human rights of other people. Around this time, I also came out as transgender. Therefore, my first year of university marked a huge change in my life, my future plans and my approach to managing my mental health.
When I moved into halls, it was the first time I really felt like I was living as my real self. I was finally able to introduce myself with a name and pronouns that felt true to me and this improved my mental health and really helped me to realise that there was a life past high school. Although my mental health had improved, socially, I found it hard to get back into a routine of studying and attending class, due to my difficult last year of high school. I had a great group of friends, who were studying the same degree as me, and although this made me feel socially fulfilled, I struggled with comparing myself to them in terms of grades.
In my first two years of university, I didn't do as well academically as I wanted to, which was hard for me because of my perfectionist tendencies and my associating academic success with my self-worth. I found it hard to organise myself and often felt overwhelmed by approaching deadlines. I let them pile up on top of me and occasionally thought about dropping out because it all seemed too much to cope with.
In my third year, I took my first poetry class, and found a passion for being creative as well as joy in trying something new and letting myself make mistakes. I found meeting creative deadlines easier than academic ones, because I enjoyed doing them, and I also felt supported by other creatives and lecturers, which is something I didn't feel like I had in my other subjects.
Now, a year on from graduating, I can't believe that I didn't allow myself to do creative things for so long because it brings me so much joy and fulfilment. After working full-time for a year in a role focused on supporting human rights, I'm excited to go back to university and start my master's in creative writing. Even though I struggled throughout my university experience, I don't think I would be the same person without the hardships. I still have a strong interest in human rights and making the world a better place, be that through activism or art. I don't think you have to choose between the two.
Chris is a Programme Co-ordinatoor at Inspiring Scotland and he makes art @plantbotart on Instagram. Chris is one of our new community correspondents, so if you liked this piece, look out for more of his art and writing! The cyanotype below is a piece created by Chris for his dissertation collection, Orange Peel.