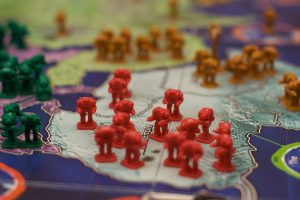 A poem about Risk from our Community Correspondent Derek Read
It was a strange initiation, into this other world,
this dark and forbidden world of touch and,
be touched and finding ourselves and
"I'll show you mine if you show me yours"
I can't remember who touched first and on what occasion,
the exploration of hands and hards. One time I do remember,
near the beginning, in the back room, the dining room, furtive,
under the table with another boy present; an innocent board game-
RISK!- the pretext and the background.
There was no showing – just a muffled climax, his – and reddening of
face,
and explanation of the "reddie", and the intake of breath,
to the bemused but disinterested observer.
After that we didn't need a pretext, didn't need an audience – however
passive – although there was always the frisson of fear, the possibilities
of discovery from
parents back from the Bingo or, at other times, stirring from quietly
watching tele in the front room (or lounge as Mum insisted on calling it).
After that we got bolder, exploring more and more, in different settings
different places.
And he became the initiator, wanted to go further, wanted to go "all the
way".
But somehow the mechanics of it eluded us.
I said: "perhaps we're too young " – the innocence remained – the need
was still there but never completely satisfied, for I had fallen in love,
wanted more.
The mechanics didn't matter – I wanted a kiss – one sweet and
innocent kiss.
This was denied, not roughly, but firmly, repeatedly, over the years,
until, although the need was an ache and an excruciating pain
I desisted, settled for the sex which somehow didn't threaten his
manhood – where he kept control.
And I surrendered my innocence.