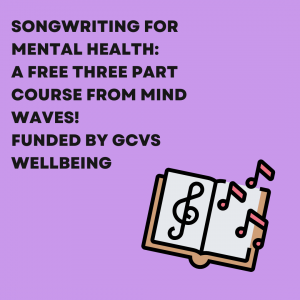 We're excited to announce a  FREE course on songwriting for mental health. This course will take place in the form of three sessions over three weeks in January and February 2023 and is fully funded by GCVS Wellbeing
The course is open to anyone over 18 living in Glasgow – even if you are a complete beginner- and will be a fun, inclusive and practical introduction to songwriting and how it can benefit our mental health.
Over the three workshops we will:
Experiment with different approaches to songwriting guided by participant preferences and interests.
Complete and informally share our own original songs in a supportive environment, either individually or collaborating with other participants
Learning about practical techniques which can help us continue with songwriting beyond the course, for example, some basic instrumental skills or writing prompts.
Create a collaborative Spotify playlist which includes music which has supported our wellbeing over the years
Discuss, explore and share what music means to us and how it can support our mental health and wellbeing
This course will be facilitated by music practitioners Marie Gallagher and Ali Holmes, who have years of experience facilitating inclusive community music opportunities.
If you're interested in learning more about the course, or want to sign up, click here to book your ticket. We can't wait to see you there!