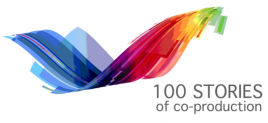 It is Scottish Co-Production week. Co-production is about the redistribution of the balance of power between service providers and users, something the World Health Organisation tells us is needed to change health inequalities.
Co-production is pretty important and it has huge benefits for not just health service users, but friends and relatives too. Ultimately its about control, control about how you live and the decisions made about you within the health and social care system.
The Scottish Co-Production network has produced 100 Short Stories of Co-Production, a series of short films featuring real people that shows co-production in its various forms and what it means to them.
Check out one of the wonderful videos from the series below.
If you'd like to find out more about co-production, or watch more videos in this series, visit the Scottish Co-Production Network website.