In the same vein as the post about the work of the Global Girl Project, another community media project that has provided Mind Waves with international inspiration is Catalytic Communities, also known as CatComm. Based in Brazil, this initiative has a focus on destigmatising and integrating the favela communities of Rio de Janeiro into wider society. Founded in 2000, CatComm has the ambition of bringing community leaders together to enable access to global knowledge and to use the internet to discuss and share solutions.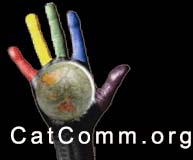 The project has achieved many things in its illustrious 12 year history, with notable highlights including developing and implementing Brazil's first Social Media Trainings for community leaders in 2009, training 180 leaders to produce stories – including video stories – and publish them online. This was followed in 2011 with in-depth training of 38 young people in community journalism or video journalism.  Most recently, their RioOnWatch initiative has drawn on this network of skilled community reporters to facilitate the sharing of community voices in the run-up to the Rio 2016 Olympic Games.
During the summer of 2011, as we were preparing to launch our Mind Waves initiative, I was fortunate to take part in a phone discussion with founder and Executive Director Theresa Williamson while she was on a trip to the UK.  She provided insights into the committed approach that CatComm has taken to develop and share the skills of community journalism to favela residents who have traditionally been stigmatised and underheard. Theresa also showed a real interest in the work we were taking forwards in Scotland.
It was with pleasure that we learned that Theresa has just been awarded a major prize for her achievements – the John D. Lange International Award, which has the stated aim of: "recognizing a person in the housing and community development field who has made an outstanding contribution toward international understanding and exchange of international experience."
Congratulations from Mind Waves to Theresa and all involved in the work at CatComm and RioOnWatch.
Article by Trevor Lakey