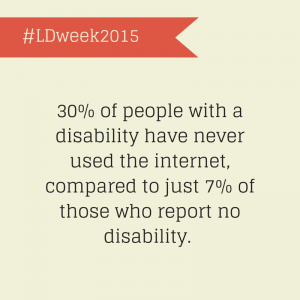 Here at Mind Waves, we know the difference that feeling included in the online world can make to your mental wellbeing.
In theory, the internet is the great leveller. People who were previously excluded from socialising, work and lots of other things that make life better, can now access them. But many people with disabilities see it as just one more barrier. One of the focuses of Learning Disability Week 2015 (15-21 June) is on tackling this digital exclusion.
Around 30% of people with a disability have never accessed the internet, compared with only 7% of people who report no disability. That's a massive difference, especially given the fact that the online world offer so much for people who are often excluded in other ways.
Of course, with the right support, there's no reason why people shouldn't enjoy an online life. There are some great examples that work specifically to empower  people who have learning disabilities to use technology. Quarriers Go 4 It programme is a great example. In fact, one of their groups made a video for Mind Waves last year about what makes  bad day good. But we all have to think about the reasons that people are excluded and work to overcome them.
Accessibility: are our websites easy to understand?
Literacy: can we present information with video, audio or images where possible?
Fear: do we try to protect adults with learning disabilities from online danger?
Of course, there are no easy answers to these questions, but it's great to see this issue getting some attention. Visit the Keys to Life website to find out what's happening for Learning Disability Week in your area