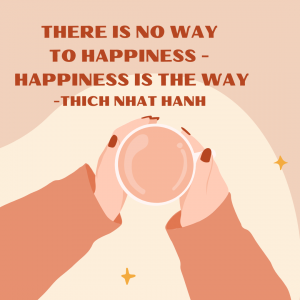 This week we have another blog post from our Community Correspondent, Laura. Read on for her thoughts on the passing of Thich Nhat Hanh, a man often referred to as the Godfather of Mindfulness. 
To set the scene, I wrote this blog while listening to Home Spa on a Sunday night. My partner is at my side and a candle called 'Calm' is lit.
Yesterday, like many others, I woke up to the news of the passing of Thich Nhat Hanh. His teaching helped me practice mindfulness daily in my life. I try to heal, be present and grounded, and enjoy moments of peace whenever I can due to his teachings.
There are lots of memorials for him happening all over the world. I decided to hang 8 nesting bird boxes amongst the trees this morning whilst reflecting on new life and the coming of Spring. I walked gently and mindfully amongst the plants and trees and was immediately rewarded by the sight of little blue tits checking out the bird boxes. It filled my heart with joy and love and is a memory that I will never forget. I also saw it as a time of things to come.
I hope all of you will practice being mindful and will be rewarded with your own special moments of hope. I have attached a link to the Facebook page of Thich Nhat Hanh so you can read about him and help celebrate the life of this great man. Click here for the page. 
What a beautiful memorial for a very influential man and a reminder to find peace in small, mindful moments. To end this post, I've included some quotes that Laura sent along from Thich Nhat Hanh himself. Thanks for reading.