This week on the blog, we're sharing a piece of writing from Catherine, one of the members of our series of Creative Writing and Wellbeing workshops run in collaboration with The Alliance and Humans of Scotland. These workshops are open to people living with a long term condition or disability, and even though we're only halfway through the month-long course, the sessions so far have been equal parts fun, engaging and incredibly moving – and that's just coming from me! We've been talking a lot about support for chronically ill and disabled people and what that looks like, experiences with doctors and medical staff, and the barriers that we face every day that able-bodied people may not understand.
The prompt (which we have shared before on our blog!) was:
Go for a walk around your flat, or wherever you are. Pick things up and look in nooks and crannies. Find something that sparks a memory. Write about that memory. Have the first sentence be:
"It started with the…"
Catherine's response to this prompt was well written, thoughtful and emotive. I have so much to say about this piece, but I'm going to let her words speak for themselves. Catherine chose a cross-stitch gifted to her by her close friend Marja as inspiration for this piece, find a picture of the cross-stitch and Catherine's words below.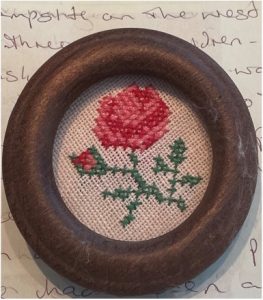 It started with ………….
The year was 1981 and we decided to try camping in France with our three young children aged six, four and two.  We loved to travel with them having adventures and building memories for them as they grew.
We chose the west coast of France in a place called La Turballe on the Atlantic Ocean.  Arriving at reception it was a surprise to be approached by a gentleman who recognised our car registration number. He told me that he lived 14 miles away in Lockerbie and we laughed at the journey we had driven to meet up with someone who was relatively local.
The pitches were a good size on either side of the road that ran through the campsite.  We had everything we needed for a family break in the trailer which my husband had built for us to go travelling with.
It started with the fun of trying to erect the new tent that we had bought specifically for the trip.  There we were setting out the poles in glorious sunshine. So much different from the weather we had left in Dumfries.  Keeping an eye on the children as they played with the others around us, we proceeded to slot the frame into place and erect it ready for the canvas to be thrown over (metaphorically speaking).  What a challenge we had given ourselves, having never had it out of the bag before we left home.  However, the couple who were in a small vintage caravan across the road came across to offer us some help to get the job done.
We bonded over a glass of their French wine after we had successfully put the tent pegs in and secured it for our two weeks of adventure.  Boudewyn and Marja became our evening companions while the children played happily around as the sun went down and the camp site became quieter in the gloaming.
Boudewyn worked in Social Care and Marja worked as a special needs teacher in a secondary school and that was an immediate connection.  I worked in a mainstream primary school with children who had various special needs and we could chat about how integration was working in education.
When they left to go home to The Netherlands I gave her a pile of magazines to read when she arrived home.  We exchanged addresses and I never thought I would hear from her again but when we came home there on the mat was an airmail letter from her and I was overjoyed.
We wrote every month to each other on airmail paper.  Back to back we could write eight pages.  Unwittingly we developed a style of writing that felt we were in the room having a chat over a pot of tea.  Marja told me that when my letters arrived she made a pot of tea before she sat down to read them.
Over the years we grew to be great friends and were like sisters.  They visited us on many occasions and we travelled to The Netherlands to visit them in Roosendaal with the children.  Every time we met it was as if there had been no parting.  We always picked up where we left off the time before.
In 1984 they spent Hogmanay and New Year with us.  They decided in our house on Hogmanay that they wanted to get married at Gretna Green in the Spring and asked us to be their witnesses.   I was asked to plan their wedding which I did and organised for them to have the day that they wanted which was with no fuss and all about them and us as a family with them to celebrate their big day.
Both were in their thirties and didn't feel the need to have a big expensive wedding at home where they would have felt pressurised into having a crowd of people attending.  I baked them a wedding cake and arranged to take them out to dinner in a local hotel where they had chosen to stay for their wedding weekend.
They were a great couple together and shared so many interests together.  The tragedy came after one of our visits in Roosendaal when Marja found a pea size lump in her left breast.  When it was checked she was told it had spread to her liver and she was terminal.  Life stopped in it's tracks for the vivacious woman that she was.  Determined to beat the disease she changed her diet to be more vegan hoping that she could stall the inevitable outcome.  The disease was unstoppable and she lost her battle to cancer when she was just 35 years old in 1995.
We continued to have a wonderful relationship with Boudewyn after she died. He came to stay with us and we reciprocated by flying to The Netherlands to stay with him.  In 2000 he was diagnosed with prostate cancer and was given a poor prognosis.  He travelled to Houston in Texas where his sister lived, to undergo a revolutionary treatment for the disease, to no avail.  He travelled to Amsterdam to trial a treatment that was not yet licensed in order to prolong his life, but to no avail.
Our daughter was to be married in July 2001 and he of course was invited to come to the wedding.  He flew over for the event and flew back the day after because he was failing in his health.  Our last time together was such a wonderful event making wonderful memories at the wedding and over a drink in the lounge after all the guests had gone home.  Sadly we were never to meet again because he lost his battle for life soon after.
So it started with a chance meeting on a campsite in France and finished when we lost both of them to the dreaded disease of cancer.  Both of them will always be very special in my memory because of the joy that they brought to my life.  I feel richer for knowing such wonderful people.  The bond we had stretched across many hobbies that we shared.  The cross stitch was one that Marja gave to me in the 1980's as one of a group of three she had created.  They sit behind me in my study and forever remind me of the wonderful friendship that we were blessed to have, if only for a few years because God had a bigger plan for them when he took them into his keeping.
Thank you for reading! If reading the prompt or Catherine's piece has inspired you to write something, please get in touch by emailing maddy@mindwavesnews.com