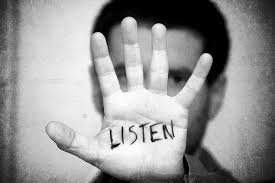 A guest post from Carolyn Wood about her work on how we can reduce the risk of suicide in our communities
What do you think would make your community suicide safer?
After a good few months of consulting with communities, going through all the stories and then pulling out the top 7 priority areas for suicide safer communities, I have now completed my report on the consultation in North East Glasgow. And this is just the beginning.
This consultation on identifying the needs of local people in North East Glasgow in terms of making suicide safer communities was commissioned by North East Glasgow Health Improvement.
I named the report 'Listen and you might Learn' – some very wise words from one of the people I spoke with during this community engagement process.
This person has been a service user of mental health services for over 20 years and, like the others I spoke with, brought a huge amount of insight and common sense solutions.
I spoke with people who have attempted suicide and survived, those who have lived for years suffering with repeated suicidal thoughts, people that have lost loved ones to suicide, those that care for someone who is suicidal and others that are actively interested in making their community suicide safer.
So the following top 7 priority areas are a culmination of these many conversations I have had with people and help us understand what would make our communities suicide safer:
Top 7 Priority Areas for Suicide Safer Communities 
Access to Immediate Support – Suicide specific / Safe Space
Really Being Listened To
Suicide Awareness / Education
Follow Up and Check-ins
People with Lived Experience of Suicide – the Peer role
Support for Allies & Supporters
Awareness of Services/Supports
To read further into these and the recommendations I make, you can access the full report here
This was originally posted at Carolyn's blog Pure Potential Scotland.