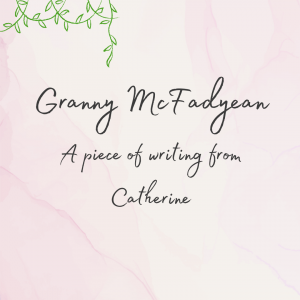 This week on the blog we have a long piece of writing from Catherine, who attended our most recent series of creative writing and wellbeing workshops, and moved everyone with her emotive writing. Reading and editing this piece made me think about memory, and how skilled Catherine's writing is here when moving between personal recollections and family stories. Creative non-fiction is a perfect medium to explore the limits and freedoms of memory, and in this case, remember a beloved family member. A moving, yet cosy piece about love and the realities of grief. Catherine's words are below.
Granny McFadyean, 1890 – 1962
Granny, as I remember her, was about five feet two inches in height and quite rounded.  She had snow white hair that was worn in a bun and covered by a hair net.  The hair nets were like gossamer and were hardly visible when they were worn.  At bedtime she would sit in her long buttoned up Winceyette night dress at her dressing table, take down her hair and brush it through in front of the mirror.  When she had finished brushing she would tie it back before going to bed.  Granny looked totally different with her hair down.  When I touched her hair it felt very silky, smooth and thin on top of her head.  It made her look like an old woman and yet I never though of her as old when I saw her during the day.
I remember granny's clothes very well.  She wore what she called serviceable clothes.  Tweed skirts, twin sets, lisle stockings, and a clean cross over apron every morning.  On her feet during the day she either wore her checked bootee slippers with the bobble on the front or her lace up black leather shoes.  Her shoes were what she referred to as 'sturdy'. I only ever saw her with the same pair and it was probably the only ones she owned.  On days out granny wore a navy blue double breasted coat similar to the one that Ena Sharples wore in Coronation Street in the 1960's.  Granny wore a hat when she went out and it was fixed firmly to her head with one of her lovely tear drop pearl end hat pins.  Granny never went out without her hat and gloves.
How well I remember the first time I visited my granny.  I was two years old and had gone to visit my grandparents with my Mum.  At that time in 1955 they lived in a cottage belonging to Newmains Farm at Prestonmill, Kirkbean.  It was located behind the blacksmith's and is still standing there today.  It was not a big house, but I remember it being very cosy.  From the stony brae running down from the house, the Solway Firth was visible but totally unattainable for me as a small child.  Granny's neighbour was a lady called Mrs Barbour and her husband was the local village blacksmith.  The Barbours had two children, Helen and Graham.  The children still live together in the same house that they were brought up in behind the workshop.  Mrs Barbour told me that she remembered by granny very well.  During a conversation she endorsed my memories by telling me that  my granny was a very proud woman, who could be very strict when she needed to be.  Granny liked everything in it's place and she had a place for everything.  It was her nature to be a tidy person.  Woe betide anyone who disagreed with her.  Mrs Barbour told me that when she knew granny, she was one of the cleanest women in the village.  Granny had very high standards and she expected everyone to live up to them.  I never knew why she had set such high standards about things that mattered to her, it was just her way and I accepted that.  Every day she put her wash boiler on and granny had her whites out on the line.  As was common at the time, Mrs Barbour told me, that when granny had finished her washing she would strip off her clothes and step into the boiler for a wash down.  The neighbours, she informed me, showed granny and papa a lot of respect.  Mrs Barbour attributed this to the fact that after the war years when lots of the village people were poor, granny was one of these people who would make do and mend and would always be on hand to give advice about how to make a little go a long way.  Although, sometimes granny's high standards would bring her into conflict with people who were not quite as exacting as herself.  Mrs Barbour and Mrs Kiltie who lived in the village were the two ladies who were most prominent in granny's life outside her own family when she lived at Prestonmill.  Papa worked as a farm labourer at Newmains.  Granny kept house staying at home when maybe she would have liked to a job helping Mrs Clark in the farmhouse as that was the work she had grown up with.
Outside the door at Prestonmill I remember seeing lots of colourful pots full of geraniums and busy lizzies.  Other plants like her beautiful old begonias were kept on the windowsills indoors in big china pots.  My papa had a very well stocked kitchen garden.  The hedgerows around his garden were full of big plumes of white flowers like lupins.  Papa would take me down the stony brae and over the bridge to feed the ducks.  I well remember standing by his side looking into the burn which was always a dirty rusty colour and full of stones. We would stand for ages just looking for minnows.  My sister Janet was born at Prestonmill on Hogmanay in 1947 and stayed there with my Mum because my Dad was still in the Army.  My cousin Linda visited at holiday times.  She recalled the day that she was playing with Helen Barbour. Janet went complaining to granny because she was not included in the game. Granny promptly told Linda to pack her little brown pasteboard case and papa would walk her to the bus stop and she was to be sent home to Dumfries in disgrace.  Papa duly walked her to the bus and when it came he waved it on by.  This was granny's way of teaching Linda a lesson.  Linda told me that she never told her mum what granny had done until she herself was an adult.
Granny was born on October 2, 1890 at Woodhead Mines, Garryhorn, Carsphairn.  She was the second child born to David Borthwick and Henrietta Turnbull.  She had seven brothers and one sister.  The brothers all settled within the Beattock and Moffat areas.  Papa was born the fourth child of five to Hugh McFadyean and Mary Morrison on February 20,  1888 at Craiglie, Ayrshire.  He had two brothers and two sisters.  He is registered on the 1901 Census as living at Hoddom, Cummertrees with Mr and Mrs Thomas McCall as a boarder.  He was working as a shepherd in the area.  It was while living at Hoddom that he met granny who was working at Hoddom Castle as a service maid.  They married on September 13, 1913 at Middlebie, before my papa went to serve in the Royal Horse Artillery as a gunner in World War 1.
Their home was at Ecclefechan in a coachman's cottage where their first child together was born, a daughter Isabel.  Granny had given birth to a daughter in 1909 while in service but she did not go to live with granny and papa when they married.  Henrietta, was never included again as part of the family.  I had a long conversation with her and her son and she said she was never included as part of the family after granny was married.
When the war was over papa took a position of farm labourer at Third Farm, Templand near Lochmaben.  With this position he was provided with a one bedroom farm cottage and it was in this house that they were to bring up their family.  My granny was mother ot seven children in that home, four girls and three boys.  I recall my mother telling me that granny lost four babies at birth.  Life must have been incredibly difficult for granny in her early years as a mother.
I know from stories told to me by my own Mum and some of the her siblings that life was very hard for them as children.  They all had chores to do before they walked to school in the morning.  They were up very early to do these chores because it was a three mile walk to school when they were finished.  My Mum was the youngest daughter and had the chore of black leading the fireplace every morning.  She told me that if her work was not to granny's satisfaction, granny would make her continue to polish the fireplace until it gleamed.  Mum said that she would hum songs when she was polishing to help her pass the time.  It was always a worry when she stood back to admire her work whether it met granny's exacting standards.  My aunts had the job of polishing the sparse furniture and making the beds.  The boys in the family had to draw water from the well and carry it into the house in buckets; split logs for kindlers, fill the coal bucket, empty the ashes from the fire, polish the clogs for school and any other jobs that granny gave them.  My Mum told me that there were many mornings when the children walked to school with tears rolling down their faces because of granny's harsh words.  Granny was no stranger to poverty and hardship.  Maybe the poverty she was living in made her more strict with her own children.  But, as a grandchild I never experienced any harsh words or deeds from her.  In the cottage at the Third Farm, there were only two rooms.  Granny and Papa slept in a box bed in the kitchen room and the younger children in the family slept in a bed in the corner.  In the bedroom the others slept in two beds placed end to end. There were no luxuries in the life of a farm labourer's family in the 1920's.
The McFadyean family moved from the Third Farm in 1947 when papa took up a position as a farm labourer with the Clark family at Newmains Farm, Kirkbean. From there in 1957 when papa reached retirement age they moved to a bungalow called Whicket Thorn at Kirkpatrick Fleming.  They were given life rent of the bungalow in return for papa doing light duties for the local farmer, Mr Campbell Beattie.  The house was situated on a farm road which ran parallel to the main road to Carlisle.  I loved that house because it was very modern with an inside bathroom which my family did not have at home.  It had a Belfast sink in the kitchen along side the sink that was used for the washing up.  On the end of Belfast sink granny had an ACME wringer.  No more wringing out the washing by hand or mangle, she now had the luxury of the wringer and a new Burco boiler for washdays.  The old wooden roller mangle saved for many years was pensioned off.
The living room was always pristine in case any friends cared to call.  It would have been a disaster for granny if the place had been untidy.  Her furniture included a big brown rexine covered three piece suite.  The arms of the chairs were big enough for us as children to sit on.  Granny kept all her baking things in the an oak sideboard that stood beside the fireplace in the living room.  In it she had large sweet jars full of flour, sugar, currants, raisins, sultanas.  An oak table sat at the living room window with a bottle green chenille tablecloth over it.  I loved that table because it was where we sat for every meal from breakfast to supper.  If there was a thunderstorm I was allowed to sit below the table to make me feel safe.  Looking out all I could see were the bobbles on the edge of the tablecloth and granny and papa's feet.  A Japanese begonia with a pale orange flower sat in the middle of the table in a china pot.  My favourite meal was breakfast because granny always had a soft boiled egg and buttered toast soldiers ready for me when I came through in my pyjamas.
Sitting at the table I could look across the road to the only other house that was nearby.  In this big old sandstone house lived Miss Stystead.  When I was a child she was a source of mystery to me because granny told us never to cross to her side of the road.  I think it may have been to stop us from bothering her.  It might have been because she didn't want to talk to Miss Stystead.  I do remember her always being well dressed when she came out through the side gate to get into her car.  On the grassy bank beside the wall of her house there were always lots of flowers in bloom, which I liked to look at.  I think some of them were primroses.
A roaring fire was the only source of heat in my granny's house just as it was for me at home.  Every day there was kindling lying out on the hearth to dry out.  Papa kept a  big jar of coloured spills on the hearth that he used to light the fire and his pipe when he took the notion to have a smoke.  His tobacco was a blend of 'half and half'.  He bought it in the tobacconists owned by Mr Bell in Friar's Vennel, Dumfries.  He kept his tobacco in a black leather purse that he called his speuchan.  How I remember the lovely smell from my papa's pipe.  It filled the room with a sweet smell and papa was very relaxed in his chair when he drawing on his pipe.
Granny and papa's move to Whicket Thorn was the start of adventures for my sister Janet and I.  Janet was born nearly six years before I was born in 1953.  During the 1950's and early 1960's we lived at Gateside, Duncow in the Parish of Kirkmahoe.  The property had belonged to our great grandparents and after the death of our great grandmother we went there to live in order that my Mum would look after our great uncle Tom.
A rare treat for us as was to have a trip on the double decker red bus that passed our cottage on a few occasions each day.  As children we would stand on the huge tree trunk at the bottom of our garden and watch as the bus went either way along the road.  The tree we played on had fallen over during a severe storm with gale force winds one winter before we moved there.  My Dad chopped off the branches for firewood but was unable to do anything with the huge tree trunk so it became an adventure playground for us to hone our dare devil climbing skills on.  As children we loved to wave to the bus driver, conductor and passengers from our advantage point perched on the huge roots of the tree.  Everyone in the area knew us as children because our Dad had been brought up in the house and his family were well known to all the local farmers and gentry.  At Gateside we had the luxury of a super orchard which was very productive.  Each year at harvest time a bus conductor named Tommy Proudfoot would get off the bus at Gateside and buy our plums from Mum after she had weighed them out on the huge scales in the wash house.  While he was with Mum in the wash house the bus went on to Auldgirth and when it turned to go back to Dumfries he was picked up at our house.
When school was out for summer, Janet and I would become very excited at the thought of going to stay with granny for the holidays.  Mum would pack our little brown pasteboard case with summer clothes and pyjamas.  I remember having lovely dresses and pants to match.  Dad was left in charge of my brothers and sister while Mum took Janet and I on the big red bus to Dumfries to catch our connecting bus to Lockerbie.  The double decker bus had a wooden slatted floor.  At the front was a long seat facing the back of the bus.  At the back there were long side seats that were fun to slide on when the bus went round a corner.  Our little case was put up on the luggage rack or in the luggage compartment at the back where the bus conductor stood.  There was no door on the bus, just a long silver pole to hang on to when the bus was coming to a stop.  The bus driver was always instructed by Mum to put us on the bus for Carlisle when we reached the bus station in Lockerbie.  Everything was organised for us so that we would not get lost.  There was no such thing as a bag of sweets for the journey, not even a sandwich in a bag.  When we boarded the bus for Carlisle we showed the bus driver the address of the place where we had to get off the bus.  Mum always wrote on a piece of paper 'let them off at Underwood House and my father will meet them off the bus'.  There was no motorway or dual carriageway on the way to Carlisle in the 1950's & 1960's and this made our journey last a long time.  Janet always looked after me when we were away on our own and I always felt very safe with her.   Mum always trusted her to look after me.  As we approached the drop off point I liked sitting bolt upright watching for my papa working in the field by the side of the road. When we got off the bus we could see granny at the front door beckoning us to run on to her.  She must have stood for ages waiting for us coming.  Granny loved us being with her as much as we loved being with her.  Papa told us to put our little case under the hedgerow and run on to see granny.  He would bring it home for us when he was finished for the day.
Every year without fail when Janet and I arrived at granny's house she made it clear through her actions just how pleased she was to see us.  We were always met with big hugs from her.  She felt hard when I cuddled her and that was because she wore a corset with stays in it to keep her body in shape.  Granny always smelled fragrant.  If my memory serves me well it was a lavender smell.  It would probably be the smell from her soap because I don't recall granny having fancy perfumes.  Luxuries like that cost money and I don't imagine there was a lot of spare money for either of them to spend.  When we arrived we were given a little red note book and a pencil with a rubber on the end.  This was our welcome gift to be used for taking note of car numbers, writing nature notes about what we saw when we were staying.  I can readily recall writing the words, to Skip, Skip to my Lou in my little red book.  Granny must have known that the notebook would last us for our six week holiday because it was a rarity that a car ever passed granny's door.  Occasionally a Massey Ferguson tractor went along the farm road but there was no chance of us being run over by the volume of passing traffic.
Janet and I quickly settled at granny's house and we felt totally at home there even though our parents were a long way away.  There was no phone to tell them we had arrived safely or to say we were upset or unwell.  Mum and granny wrote to each other regularly so it is probable that we were mentioned in their letters.  Granny always spoke in a quiet voice and I don't recall her raising her voice while we stayed with her.  I loved that because I never did like anyone being cross with me, whether it was my parents, my teacher or my granny.
Our bedroom at granny's house was wonderful.  The big bed filled one corner of the room.  There was an eiderdown folded neatly at the bottom.  A rather imposing oak wardrobe was where we kept our clothes and our little brown case was put on the top of the wardrobe while we were staying.  On granny's dressing table we could look at ourselves in any one of the three mirrors that were attached at the back.  Her green cut glass dressing table set sat alongside the table brush set with the embroidered backs.  Janet now has that set on her dressing table at home.  We had lovely curtains in our room with bunches of cherries in the pattern.  On the wall there was flowery wall paper and a beautiful photograph of my favourite aunt Isobel with a string of pearls round her neck.  Against the wall stood a marble washstand with a large basin and jug on it.   I remember it as a lovely bright room and I loved sleeping in the big bed with my sister.  If we woke up before granny and papa at the weekends we would put the clothes horse under the blankets and make a big tent.  We would talk under the blankets for a long time together.  Janet and I were allowed to read in bed which was never allowed at home.  It was staying with granny that I was introduced to Ali Baba and the Forty Thieves, The Water Babies and Aesop's Fables.
Granny could always find the time to spend with me.  As I am the middle child out of a family of five it was difficult to receive a lot of attention at home although I was certainly never neglected.  Granny found the time to teach Janet and me how to bake, sew and knit on four needles.  She was keen for us to learn how to use a needle and thread.  There was always little pieces of blue and white gingham for us to work on learning how to hem and cross stitch.  We were taught how to turn a hem and stitch it without making our work too visible.  Learning to knit on four silver needles was an experience I will never forget.  Janet and I were given some Lovat Green wheeling wool and were shown how to cast on our stitches and work round the four needles.  I remember us knitting small socks and clothes for our dollies.  With granny there was never any pressure to get it right first time, she was happy to pick up our dropped stitches and get us back on track when we made our frequent mistakes.  I still have and can use the skills today that my granny taught me over fifty years ago.
Every day granny would bake something for papa coming in from the farm.  It was either a batch of soda scones, pancakes or rock buns.  Janet and I had our own little bowls of mixture and we stood beside her at the kitchen shelf and mixed our batch along side her. We were taught how to knead the dough for scones, roll it out into rounds or if granny decided we cut the scone mixture into quarters.  Fractions were being taught to us in granny's kitchen.  One of the favourite meals she made for us was stovies.  The recipe was on an old tea towel and when granny made it we grudged papa every bite because he had more than us on his plate.
On a daily basis granny would clean her house from end to end.  She loved to have it neat and tidy.  Once a week she would get down on her hands and knees and polish the linoleum on the lobby floor with Mansion polish.  When she finished applying the polish she tied dusters to our feet and told us to go and play sliding in her lobby.  It was many years later that I realised what a clever game she was playing with us because us sliding was buffing the polish off for her.  'Go right into the corners' she would tell us and 'What a good job you are making of granny's floor'.  For us it was great fun sliding indoors and not getting trouble for doing so.
In the era when we stayed at granny's there were no supermarkets in the area to buy groceries.  Every week a variety of food vans would come to the house for granny to make a purchase.  The Home and Colonial grocer van was wine coloured with it's name on the sides.  The groceries were stacked on wooden shelves along either side of the van.  Granny rarely bought any fancy tins of anything from the grocer.  There was not a lot to choose from, but that was where she bought her basics for the meals every day and her things for baking.  Twice a week Tom the baker would arrive and granny would buy bread that she sliced herself.  It came wrapped in greaseproof paper which she kept for lining her baking tins.  On odd occasions she would buy a pan loaf if she was having visitors and use it for the egg and meat paste sandwiches.  We were allowed to choose a fancy cake when Tom came.  I usually chose an Empire biscuit with a cherry on the top.  They are still a favourite of mine.  A fish man came once a week and I liked looking at the different kinds of fish that were laid out in the back of his van.  When the postman man came it was special because she liked to get letters from her children who were living in areas a distance from where she was living.  Granny would sit down and read her letter and we did not disturb her because she liked to have peace to read the news from her family.
When the weather was very warm granny often sent Janet to the village shop to buy a bottle of ice cream soda and a block of vanilla ice cream for each of us with a wafer.  Granny introduced us to ice cream soda drinks and it was a real luxurious treat to get something like this when we stayed with her.  Another treat, which we got from papa was a rich tea biscuit from his special biscuit barrel.  When he came in from work he would say to granny, 'Tibs, have they been guid lassies' and granny always replied 'Rob, they have been just champion'.  He would summons us both to come ben the room and receive our treat.  It was a good feeling to always be in the good books at granny's because very often I was not held in the same esteem at home.  Papa had an expression, ' I am away to see a man about a dog'.  When he came back, Janet and I asked him where the dog was?  But there was no dog.  Papa had actually been in the farmer's fields getting vegetables for granny to make soup.  We never told anybody what he did.
Above his left eye he had a small hole in his head that was caused by a branch coming into his face when he was cycling in the blackout during the war.  He had horn rim glasses which the budgie used to perch on when it was allowed its nightly flight around the living room.  The budgie liked to pick the Bakelite of the legs of his glasses. Papa sometimes took us out with him when he went to work in the fields.  I recall many days when he was out ditching that he told us stories and taught us rhymes and songs.  I liked when we sang 'Ally, Bally, Ally Bally Be, sitting on your mammies knee, waiting for a wee bawbee, to buy some Coulter's candy.  We happily joined in the fun of learning with papa when were out with him.  He would show us flowers in the fields and bird's nests in the hedgerows as well as teaching us things about country life.  My papa wore clogs six days a week.  He bought them in Greirson the Clogger's shop which was located near the bottom of Friar's Vennel, Dumfries.  They were lined with fresh rushes from the burn every week to give him some comfort from the wooden sole.  On a Sunday morning he polished his shoes and went to church wearing his best suit and bowler hat.
In the evenings after our evening meal, Janet and I were encouraged to help clear the table and put the dishes back in the sideboard after they were washed and dried.  The tea leaves were ritually put the down the toilet each evening to keep the pipes clean.  Janet and I were often told that granny had a little treat in store for us after the clearing up was finished. The treat was to sit out on the steps which lead up to the garden and scrape the skins of the potatoes for the next day's dinner.  We loved doing it because we were helping granny.  Papa gave us the job of helping him in the garden. We would carry the weeds to the compost heap and sit with a basin full of blackcurrants or gooseberries, top and tail them ready for granny to make jam.  She made all kinds of jam but rhubarb and ginger and marmalade were her favourites.  As children we were eager to please our grandparents because every task they gave us was made to feel like fun while we were doing it.  Granny and papa had a wonderful way of making us feel very special.
All day long the wireless would be on and we got used to listening to 'Mrs Dale's Diary', 'The Navy Lark' and the 'Billy Cotton Band Show'.  When the day's work was done we would sit together and watch television.  At home we didn't have a television so it was a real treat for us.  We were sometimes allowed to view 'Watch with Mother' in the afternoon.  Granny and papa liked to watch the BBC news with Robert Dougall.  Dixon of Dock Green was a favourite programme on a Saturday evening that we watched together.  I remember watching Coronation Street with granny.  Ena Sharples and her friend in the programme reminded me of granny and her friend, Mrs Manston from Eaglesfield.  They all wore the same clothes and had their hair up in a bun with a hairnet on.  Television was never on for any length of time because granny and papa liked to go for a walk in the evening and come back and play cards for a while before we were ready for bed.  Knock out Whist, Solitaire, Rummy, were all games we played with granny and papa.  Granny was a terrible cheat at cards and would often hide them in the folds of her apron and then bring them out if she thought she would win the pennies.  When our aunts and uncles came to visit on a Sunday there were always card games after the traditional roast beef and Yorkshire puddings.  During these games our cousins joined us playing in the garden or the surrounding fields.  We only ever came in if our names were shouted.  Great fun was to be had with our cousins and we were the ones left feeling special because we were the only two grandchildren who were ever allowed to stay for the whole school holidays.  Our cousins, Mum told me, were always whining to go home but Janet and I wanted to stay as long as possible.  Janet and I played well together and were outside until we were called in for our bath.  It was a real treat because we didn't have a bath or indoor toilet at home.  We were allowed to have bubbles and play in the water for what seemed like ages.  Pyjamas were warmed on the fireguard ready for us when granny had dried all our 'creases'.  'Don't want chapped bits' she would say.
When in the summer of 1962 my Mum told me that I could not go and stay with granny because she was unwell and wasn't fit to look after me, I was broken hearted.  Granny had asked Mum if she could please have Janet to stay and help her in the house.  I felt very cheated by this because at the tender age of nine I did not understand how unwell my granny really was.  During that summer I was a very unhappy little girl because my heart lay with sister staying at granny's and I wanted to be with her.
Janet nursed my granny until the day she died on August 18, 1962.  Granny had asked Mum if she could have Janet with her because she was her favourite granddaughter.  When Mum was told of granny's death I was too young to realise the magnitude of what this would mean for us.  I vividly remember Mum getting dressed in her grey costume with tears rolling down her cheeks.  Mum had to make the same journey in the bus that Janet and I had been making for years every summer.  It must have been an incredibly painful journey for her to make on her own knowing that the body of her mother was lying at Whicket Thorn when she arrived.  For myself I remembered feeling that life would never be the same again for me now that my beloved granny was dead and I couldn't share any more times with her.  No more cuddles at bedtime when she would tuck me in and tell me that I was 'a guid wee lassie'.  There would be no more sewing or knitting sessions on a summer afternoon.  Ice cream soda drinks were now in the history book of my life.  Janet and I would have no more trips to Whicket Thorn.  Papa was still alive but somehow he was humbled and life would never be the same without my granny.
Granny was buried in Troqueer Cemetery in Dumfries.  When her funeral was past it was decided by her sons and daughters that papa would give up his house and that he would spend six weeks with each of them respectively.  This meant that his house had to be stripped and his belongings were divided between his family.  I remember my Mum received a wall clock, a large chest of drawers where granny had kept her beautiful linen, and the big television set because everyone in the family had a television set except us.  It was comforting to have something from granny's house that I could feel attached to.  Janet had quite a traumatic summer at the age of fourteen, she had been housekeeper and nurse to granny.  It was an honour for her to be with granny when she died because like me she thought she was the best granny in the world.
Since my granny died all those years ago I can honestly say that not a day goes by that I don't think about her.  I firmly believe that of all the people who have shaped my life as a child my granny had the most influence on me. It is difficult to understand why that should be when I spent so much more time with my own parents and family.  Granny was like a teacher of life to me.  She instructed me on how to behave when visitors called or when she took me visiting with her.  Every day was exciting staying with her because she would have the day planned from us getting up through to bed time.  Granny always had time to sit and listen to what we had to say.
Granny for me was the most special person I had ever met at that time and to a degree the thought of her still excites me even though I am an adult.  Her own children had experienced a different side to her than I did.  Maybe she loved us dearly because she had come to the realisation of how hard she had been on her own children when bringing them up.  Granny was always full of fun.  She laughed and smiled a lot and never seemed to be annoyed with us whenever we were staying.  I do not recall ever being on the receiving end of anger from granny or papa.  When we went home she must have been really tired having looked after us over the whole school holidays.  Janet and I never asked to go home early because it was always good to have so much attention from our grandparents who clearly loved having us to stay.  Maybe she was good to Janet and me in order to make up for being so hard on my Mum when she had lived with her at Prestonmill when Dad was still in the army.  These are questions that can never be answered.
I will always remember my granny with the greatest of love and if there is an after life she will be one of the first people I hope to meet when I arrive there.
Thanks for reading. If Catherine's piece inspired you to write something for us, get in touch with your work by emailing maddy@mindwavesnews.com, messaging us on Twitter at @MindWaves1 or DMing us on Instagram at @mindwaves_scot