Recently Mind Waves had a chat with Maura McSorley, Social Enterprises Director with
UnityEnterprise, at the Spoon Cafe in Glasgow's Trongate. We plan to cover Unity's work in more depth in a future article but Maura gave us a quick overview.
Unity Enterprise is a charity based on the Christian principle of caring for people, by providing practical support. It aims to have a positive impact on the lives of those who, for example, have experienced mental health issues, have learning difficulties or are socially disadvantaged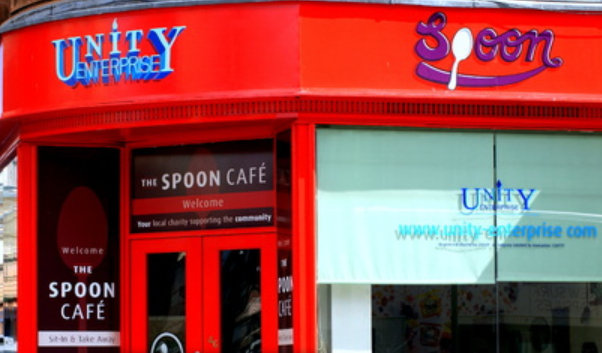 The Spoon cafe is one of a number of businesses run by the charity throughout Scotland. They provide opportunities for people to gain work experience, build confidence and develop new skills. Service users work alongside staff to create an environment that's both empowering and supportive.
Many of the customers come to think of the cafe as their 'safe place'. It's friendly and welcoming, with great service and also offers a catering service for local businesses and events. The Spoon closes at 3pm, so that a meeting space can be used through the evening, for training sessions and meetings.
Look out for our follow up story with Unity Enterprise. In the meantime, why not stop in at TheSpoon, next time you're in town?
Story by TG