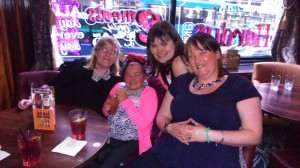 Christmas is a time for having fun and spending time with the people we love. But it can be a lonely time if you struggle to make friends, or you don't feel confident enough to get involved in the festivities.
Dates n Mates friendship and dating agency is run by and for people with learning difficulties. They give people a bit of extra support to make friends and find love. The agency runs events throughout the year, but the Christmas party is a real highlight. This year, the glittering do is at the Radisson on Sunday December 21. It looks like a great night with a buffet, live music and a photo booth.  It's open to anyone for £15, and there's a discount  rate of £12 for Dates n Mates members.
Dates n Mates member Jackie Dooley explained how being involved has helped her confidence:
"I love Christmas, spending time with family and friends, giving and receiving. 
When I first got involved with Dates n Mates I felt excited, but nervous. But I never felt left out at all.
I feel different now. I believe more, 'you can do it!'
I hit my personal goal and became more confident with myself to try out new and different things. And I've met loads of new friends: Mary, Cat, Sinead… too many to mention!"
If you or someone you know would like to get involved or to buy tickets for the Christmas party, contact Dates n Mates on 0141 427 2957 or visit their website to book online.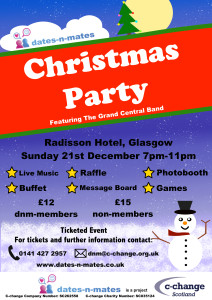 I