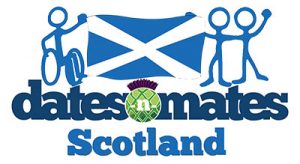 Mind Waves sat down for a chat with John Paul Moffat, the national director of dates-n-mates Scotland; a Scottish charity project that supports love and friendship for adults with learning disabilities. John Paul tells me: "The charity offers a well needed space for people to come out of their shells, make friends and connect."
Research shows that adults with learning disabilities are more likely to have smaller social networks and therefore struggle to have their social needs met. (Kamstra et al. 2015) dates-n-mates seek to change that. Since their launch in 2008 the charity has been organising regular events and workshops. Events like 'Mix 'n' Mingle' and 'What to Say After Hello Training' teach members of the charity about social cues and etiquette. These skills are then put into practice during a number of fun events and parties throughout the year such as games nights and a Halloween party.
Due to the pandemic, dates-n-mates have been hosting a number of virtual events for members, including a recent Zoom event: We've Got Talent. John Paul tells me that one of the performers has been a member of dates-n-mates since its launch in 2008, and it's nice to watch members grow in confidence over the years. The charity plans on continuing with online events after the pandemic as they have allowed adults from all over Scotland to connect and form friendships, with in-person events added back in the future.
However, many members of dates-n-mates find social media and online events inaccessible, so John Paul and his dates-n-mates Scotland colleagues have continued to keep in touch with them during the pandemic through phone calls. Before COVID-19 hit, dates-n-mates would host Guys and Girls Events and John Paul tells me that some members would be isolated without them. That's why he has continued to phone members of dates-n-mates who don't interact with the online events to check in on their mental health. As the risk of COVID reduces, dates-n-mates hopes to get back to their previous schedule of 3-4 events a month and in-person meetups. I ask John Paul about his hopes for the future of the charity, and he tells me that he'd love to see a wedding between two members one day.
Check out the dates-n-mates website at https://dates-n-mates.co.uk or follow them on Twitter @datesnmates for more information on the charity and upcoming events.