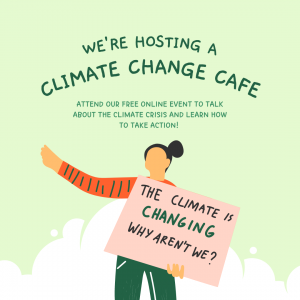 Hello everyone and happy new year!
I hope you've all managed to have some time off during the festive period and you're settling into the new year feeling recharged. The first Mind Waves blog post of 2023 is some information about a free, online event that we are running in collaboration with Hilda from COPE Scotland.
On the 18th January from 11am – 1pm we are hosting a Climate Change cafe on zoom. Hilda has been working in partnership with the Scottish Communities Climate Action Network (SCCAN), and got in touch with us recently to offer to host an event focusing on some of the ways we can take action against climate change.
Throughout the session our host, Hilda, will help us draw on our thoughts regarding climate change, and give us space to talk, address our concerns, and help us to take action.
We would love it if you could attend this event, even if you just want to listen. There will be no pressure to have cameras on, and you're welcome to join in via the chat function on zoom if you don't want to speak.
Please RSVP to this event as soon as possible by emailing maddy@mindwavesnews.com and letting us know. Feel free to share this event with anyone you think might be interested in attending, and encourage them to RSVP also! The zoom link will be shared via email closer to the time.
The hope is that, long-term, these climate change cafes can become regular events, with different hosts each time, so we can build a movement of people who are dedicated to understanding climate change and trying to help. 
We look forward to seeing you there, and as always, if you have any ideas for blog posts or content for Mind Waves, get in touch by emailing the address above or messaging us on Twitter at @mindwaves1 or Instagram at @mindwaves_scot