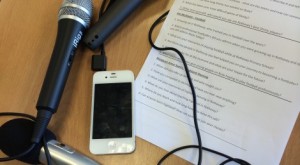 Are you interested in reporting an alternative perspective on the games? We're part of #citizen2014 – a partnership running the citizen media centre on the city's Trongate.
The partnership includes Mind Waves, Digital Commonwealth, somewhereto_ ,  and the Media Trust. We will offer free support to budding citizen journalists at a drop-in at the Beyond the Finish Line building on the Trongate from July 23 until the closing ceremony on August 3. The programme will include workshops, mentoring and a daily show & tell to share stories.
Jennifer Jones of Digital Commonwealth said: "We want to support people to report an alternative, community-focused view of what's happening in our city during the games. We know there's loads going on and people have a lot to say about it. We're here to develop skills in blogging, photography and video and to share what people produce through social media. We're really excited about it."
Mind Waves workshops will include:
The centre is open to anyone who has something to say about Glasgow 2014. You can drop in to Beyond the Finish Line (7, Trongate), follow @citizen2014 on twitter or visit the project website at www.citizen2014.net.
You can view the full list of workshops and sign up free here: