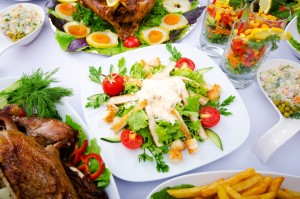 Happy New Year. How can it be 2016 already? But here we are.
For our first theme of the year,we're talking about food. It's something that most of us can talk about all day.
Let's be clear. This isn't about how we'd all be happier and healthier if we lived on alfalfa sprouts. We want to know how food contributes to your overall mental wellbeing. Donuts can do that just as much as bananas can. No food judgements here.
Here's a quick seven ideas to get you started:
1. Do you feel better when you eat (or don't eat) certain foods? Tell us all about it.
2. Have you learned to cook, or even grow your own food? Has it helped your mental wellbeing?
3. Are you part of a community group that has a project based around food?
4. Have you found your way back to good mental health after living with an eating disorder?
5. Is there a meal that reminds you of someone or somewhere you love? Share how it makes you feel and the recipe.
6. Has "breaking bread" with other people helped you to make friends or heal rifts?
7. What's your secret food pleasure? Why does it make you feel so good?
As always, feel free to write ( about 25-300 words) send a photo, a video, share a recipe- whatever is works for you.
If you have an idea, feel free to
get in touch
and we are happy to help you put it into action.
Blogging for Mind Waves should never put you out of pocket. If you need to buy ingredients, we can give you expenses, so please do let us know. Tweet us
@mindwaves1
or you can
submit your story here.