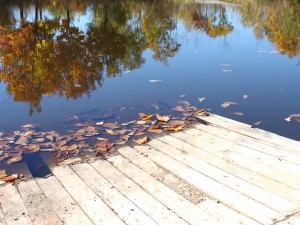 At our latest Mind Waves meeting, Community Correspondent Derek  read us his latest poem and in the usually lively room, there was silence. I think we all understood the feeling of dark times approaching and were moved by the sense of humour and hope in his words. Here they are.
Autumn skinny dipping
I've had some dips, some dark dips
into the dark waters of past hurts,
remembered fears.
But even after a sleepless night
there was some buoyancy
a floatation over little dreads,
imagined catastrophes
vexatious irritations.
Hopes kindled have not returned to their hidden lairs
and bears crap joyously in the woods
as the leaves fall
I will travel in the Spirit
find friendly shores
open arms, open hearts.
Derek Read, 2014
What about you? Are there times of year when you feel your mental wellbeing start to dip? What helps you to get through hard times?