Many people who have a mental health problem find it difficult or distressing to deal with certain aspects of their lives, like dealing with bureaucracy, when they are acutely unwell. In those situations, it is often a good idea to call on the skills of an Independent Advocate. Advocacy is an impartial, non-judgemental and usually free service. Advocates act on behalf of people who want or need someone else to help them with such things as benefits appeals, court appearances, and issues with social work or the health service.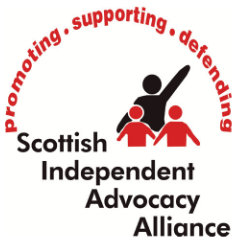 According to the Scottish Independent Advocacy Alliance (SIAA), "Independent advocacy is a way to help people have a stronger voice and to have as much control as possible over their own lives. Independent Advocacy organisations are separate from organisations that provide other types of services. An Independent Advocate will not make decisions on behalf of the person they are supporting. The Independent Advocate helps the person to get the information they need to make real choices about their circumstances and supports the person to put their choices across to others. An Independent Advocate may speak on behalf of people who are unable to do so for themselves."
Independent Advocacy services are available all over Scotland, the SIAA provides a list of services broken down into NHS Board areas, so that you can find one in your local area, and which suits your particular needs. Independent Advocates act on your behalf: their first priority is that your wishes and thoughts are communicated effectively; and that you retain as much control over your own life as possible.