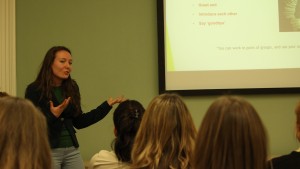 A guest post from Robbie Norval of @lingoflamingo1
A few years ago I read a statistic from Age UK that adults who are depressed or lonely are twice as likely to be diagnosed with Alzheimer's  as adults who have an active and social lifestyle.
It was this shocking statistic that made me think about creating a concept to help battle isolation and loneliness in older age. After doing some further research I found fascinating studies which showed that bilingual adults on average get dementia five years later than monolinguists. That is when I had the lightbulb moment; to found  Lingo Flamingo, a social enterprise which makes learning foreign languages more accessible for older adults creating a fun and safe atmosphere for them to learn in.
Continuing to learn throughout life can help improve and maintain our mental well-being. Depression and anxiety can make people feel very isolated. Therefore, language workshops can provide a simple, structured way to connect with others boosting self-confidence, self-esteem and help in building a sense of purpose.
A lot of our students have been out of education for decades and often associate learning with classrooms and strict teachers. To counteract this we provide outreach language classes in safe spaces where our students feel at ease. Our classes are fun and interactive- we include music, games and memory tips to help cater to different learning styles.
We also distribute group homework exercises to encourage social inclusion out with the classroom. It is lovely to see how students develop throughout the classes not just linguistically but in terms of self-confidence and self-worth.
Empowering adults can come from a variety of sources and I like to think of Lingo Flamingo as one of these strands using foreign languages as a basis for inclusive, organic learning to make life just that little bit happier.