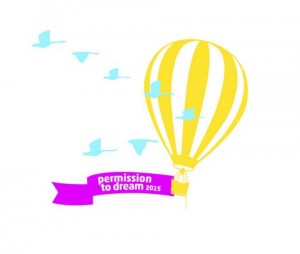 A guest contribution from our friend Claire from @OTBCommunities
We're holding an event on March 4 to look at how self-directed support can work for people with mental health problems: Permission to Dream 2015.
As part of the preparation, we have been thinking about our dreams and the things we would like to achieve with our lives.     People have been telling us that you can't start planning how to achieve your dream if you don't feel you are allowed to dream.  We thought it would help people to dream if we shared our dreams and hopes for the future.
We would like to invite you to share your dreams with us.  We will share them anonymously at the event, on twitter and encourage others to do the same -giving us all permission to dream and a collection of dreams to draw upon.
Some dreams we have had so far are:
"I would like to have a house full of flowers grown in my garden."
"I want to have a busy full life where I meet and chat to people everyday."
"I want to l live on my own, so I can eat when and what I want, and come and go as I please."
"My dream is to go on holiday."
"I want to go to university, study and get a good job that helps other people."
We are just looking for a simple sentence or a few words or a photograph.
If we could have your dream by Friday 27 February we will be able to include it on 4th March.
Please send it to Claire@otbds.org , leave a comment below or tweet @OTBcommunities
There is more information about the event and everyone's dreams at: www.gettingtheresds.com/
Thank you for sharing your dream.