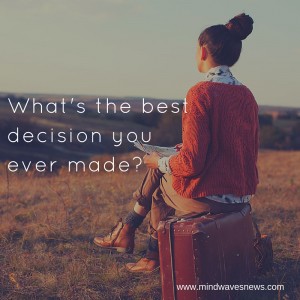 It seems that summer is nearly over already and we're looking at our Mind Waves theme for autumn.
We want to know: what's the best decision you ever made?
It doesn't have to be something major. It could even have been a bad decision that had a good outcome for your mental wellbeing. Here are some ideas, but I'm sure you'll think of loads more.
Finding the guts to go along to a new activity
Saying no to something you don't want to do
Getting in touch with someone from the past
Deciding to tell the truth
Asking for help
As always, it doesn't matter how you tell your story. You can use words, pictures, video, audio… and we're quite happy to re-publish something you've written before if it fits the theme.
You can submit your story here or feel free to get in touch if you'd like to discuss your idea or if we can help you with putting it together.