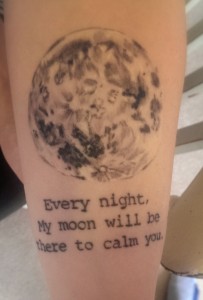 After our story about tattoos and mental wellbeing last week,  we've been noticing hidden meanings etched on bodies everywhere.
Rachel shared this picture of her calming tattoo, which bears the words "Every night, my moon will be there to calm you." We loved the idea of a permanent feature on your body that reminds you of the calming permanence of the moon in the night sky.
We asked Rachel how she got the idea for the message and her answer was… " I have no idea. I was travelling in Australia, I got very drunk and I woke up in the morning with this."
So, maybe not a planned act of self care, but she says it helps her cope with anxiety, made her feel less homesick and made her laugh at herself, which is a great recipe for mental wellbeing.
As it turns out, after some frantic googling, Rachel discovered that the quote is actually from a poem from the book Letters, to the men I have loved by Dominican poet Mirtha Michelle Castro Marmol @mirtha_michelle .
Here's the poem in all its  glory. It's really quite beautiful.
There, I still will be
I gave you the sun
But you wanted the moon.
When I gave you the moon,
You wanted the stars.
So I reached blindly,
for the most infinite stars,
And wrapped myself
Around each one of them,
Just for you.
The stars,
the moon and the sun combined,
Weren't enough for your fickle heart.
So I took my tears,
And made you a sea,
So you can sail the earth
And find the impossible treasure,
You constantly seek.
Yet every morning,
my sun will be there to wake you.
Every night,
My moon will be there to calm you.
And if you ever need me,
Look amongst the stars,
Wrapped in each one of them,
There, I still will be.