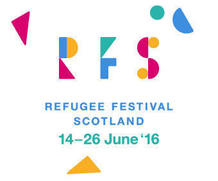 The Mind Waves theme at the moment is journeys. We're talking about our personal mental health journeys, as well as actual geographical journeys .
It's undeniable that travelling far from home, even for the best of reasons, has a big impact on mental wellbeing. It's hard to imagine how it must feel to have to leave your country behind and seek refuge in a new place.  So, we're really interested to learn more about this year's Refugee Festival, which focuses on the idea of solidarity with refugees.  .
The festival is already underway and runs until June 26. There are some fascinating events happening around Scotland and we've selected a pick of what's happening in Glasgow, many of which have a real positive focus.
Unity Sisters Spa Day – Sat 18 June, 2-6pm, St George's Cross
A spa day that includes manicures, massage, cake and more. The event is to raise money for peer support for women in the asylum and immigration system.  It is free for refugee and asylum seeking women, a donation of £6-£20 for everyone else. The spa day is for women,  trans and non-binary only.
Singing Solidarity- Voicebeat– Sat 18 June 7-9.30, Botanic Gardens- free
A fun and free Saturday night out to hear unaccompanied choir music from around the world in the inspiring setting of Glasgow's Kibble Palace.
Mindful Afternoon with Tea– Sun 19 June 2-3pm, Barrowlands- free
An afternoon of guided mindfulness, open to everyone, whatever your experience level. The session will be guided by Sunny from Settled in Glasgow Oral History Archive.
Lest We Forget– 14-26 June, Mitchell Library- free
A fascinating exhibition that looks at the parallels between the thousands of Belgian refugees who came to Scotland during the first world war and the experience of refugees who arrive today.
We are the Giant– June 23 7-10pm, The Legacy Hub, Parkhead- free but booking required
A film screening and discussion about how people are transformed by standing up for their rights. The discussion will include Glasgow Girl and community activist Amal Azzudin.
There's lots more happening throughout the festival. You can see the full list of events here.