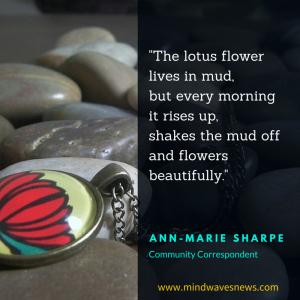 A post from our Community Correspondent Ann Marie Sharpe @hippychick1987
I have bipolar disorder, and have suffered with mental illness all of my life. My experiences living with mental illness have inspired me to create something positive, to encourage and
help others in their lives, and I am so proud of  Ams Creations.
I began Ams Creations to create handmade jewellery based around positive life messages. It is something I have wanted to do for a long time, and as I am unable to go out to work, I decided to bring the work to me and start my own little business.
My jewellery is designed to send positive messages to anyone who needs them, whether they suffer from mental illness or have other life struggles. I aim to provide positive
messages to cheer people up and keep them going. I hope that my pieces will provide strength in times of trouble, and cheer in times of sadness.
My logo is a lotus flower, because I think it is a fantastic symbol of what I am trying to represent. The lotus flower lives in mud, but every morning it rises up, shakes the mud off,
and flowers beautifully. Just like us, whatever we go through, things will always get better, and we will stand strong again!
I am determined to work around the limitations of my illness, and focus on what I can do, not what I can't. I want to try to help others with the messages my jewellery sends, even if it
is only in a small way. The response I have had so far has been so lovely and amazing, and I feel so blessed.
My website is www.amscreations.co.uk if you would to have a look at what I do.