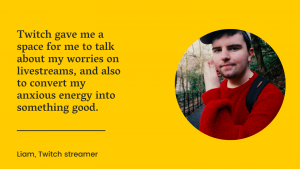 Recently, Mind Waves shared a question on our Instagram stories: Do you feel like the internet affects your mental health positively or negatively?
84% of you guys voted negatively, so I thought I would seek out and learn a little more about positive online spaces. I recently had a zoom chat with Liam, a music journalist who also livestreams on Twitch.
Twitch is an online platform where users can livestream themselves or watch other people streaming. Although the platform is often focused on gaming, it has, for Liam and many others, become a positive community space online to socialise and relax, especially during the pandemic.
Liam started out watching other creators play video games online and decided to have a go at live streaming in the Summer of 2020.
"When I was younger, I was teased for liking games, but Twitch is a nice space where I can just explore my interests. It's comfortable- you're in your house playing a game."
A big source of appeal for Liam was the social aspect of Twitch. During the pandemic, social interactions were thin on the ground, and many of us started to feel isolated. In opposition to this, when restrictions started lifting, lots of people found that their social battery was quicker to drain and interacting with friends and family was more difficult than before. Twitch appears to offer a solution to both of these problems. Liam tells me that the Coronavirus outbreak inspired him to give streaming a go:
"I feel like everyone was so void of energy during the pandemic- watching someone play games is a low energy way to get that interaction. People play along, it can be collaborative. You can interact and talk in the chat feature or just have it on in the background."
For many people, Twitch has become a low-pressure way to socialise online with people who share your interests- video games or otherwise. In April 2021, Twitch had approximately 9.36 million active streamers and although the site started as a gaming platform, it has expanded to house streamers that focus on wider topics. I had a look for myself and immediately found livestreams of people all over the world cooking, chatting about TV shows and playing various instruments.
Liam tells me that, like many others, his mental health took a turn for the worse in 2020:
"The main thing for me was anxiety and feeling isolated, I felt anxious about the future. I went to counselling and it helped, but Twitch gave me a space for me to talk about my worries on livestreams, and also to convert my anxious energy into something good. I have also suffered from depression in the past which has caused my interest in things to dwindle. It stopped me playing games. Twitch renewed my love for playing video games. In addition to counselling and family support, Twitch was like a fourth pillar."
For Liam, streaming is something that is both productive and fun. Having a schedule for gaming helps him to maintain equilibrium and even come to terms with some of his previous insecurities:
"I've become better with silences; I'm used to needing to fill them and talk a lot. By streaming, I can foster an environment of discussion and include people that might only speak when spoken too. I've realised that something I thought was a negative quality can be an asset. I don't feel as ashamed, in certain settings it's good."
I highly recommend checking out Liam's Twitch profile, his name is liamthemusicreviewer. He also makes music analysis videos over on YouTube under the same name.