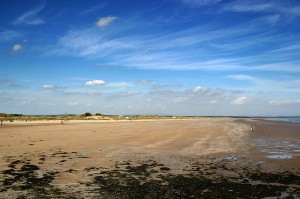 A post from our Community Correspondent John Dane
I woke up this morning, the sun was shining and I thought to myself "what a wonderful day". So I found myself hastily getting washed and ready for a great day. With our weather being so unpredictable, I decided to make the most of the day.
So, with my free bus pass in hand I boarded the first bus to Buchanan Street bus station. Going in, I still hadn't a clue where I was going. Looking at the departures board, I decided to catch the bus to St Andrews where I arrived two and a half hours later. When I alighted from the bus, I found myself walking along the famous golf course and getting an ice cream.  I walked along the front, feeling a light breeze and the sun shining on my back and I thought to myself, what a wonderful day.
Having had a great day, I decided I would go for a nice meal before catching the bus back to Glasgow, arriving home just after 7pm. Fortunately, I am at the stage in my mental health recovery where I have more good days than bad. I hope that by sharing one of my good days that you might see that even a simple thing like jumping on the bus for a day can make you feel good about yourself.