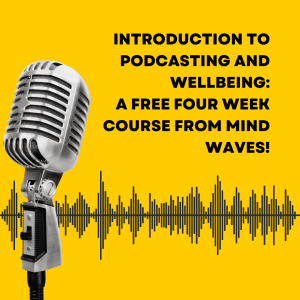 Mind Waves is delighted to host this FREE podcasting course, fully funded through GCVS Wellbeing Fund. The course will run over four weeks, with the first three taking place via Zoom and the final workshop taking place face to face. Click here to learn more about the workshops and sign up.
The first three Zoom webinars will take place on:
– Thursday 22nd September
-Thursday 29th September
– Thursday 6th October
(2-3.30pm on all three dates). We'll send Zoom links will in advance of each workshop.
The fourth and final workshop will be face to face in central Glasgow on Thursday October 13, 1-4pm.
Over the four weeks we will explore:
-How podcasting can support our mental health
-Simple ways to record, edit and upload podcasts on your smartphone or laptop
-How to interview guests or be a guest on a podcast
-Practical steps to take to create each episode
All of the sessions will be facilitated by Mind Waves Podcast Co-ordinator Rosie Beech. Rosie is audio professional with four years of experience. They also run their own podcast 'Yorick Radio Productions.' Rosie wants to make podcasting accessible to everyone and is passionate about the benefits of listening to and making them. Their favourite podcast to listen to is 'Not Another D&D Podcast.