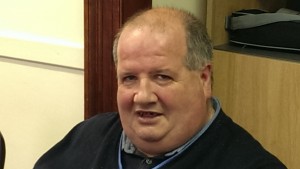 A post from our Community Correspondent John Dane
What are goals? Not for me the twenty feet by eight feet goals of a football pitch, but the much more personal goals I have been able to see and achieve with the help and support of my wonderful support staff, all at my own pace.
At first these may have looked like simple goals to most people, but to me they were giant steps. My first goal was to be able to interact with other people having been very much a loner all of my life. This was a gradual process. First getting to know and trust the staff then slowly meeting one or two members and gradually feeling comfortable about joining in and contributing to group activities.
My next goal seemed much bigger in my eyes. I happened to mention to one of the staff members that I had always thought about doing a degree at the Open University, but that I had no qualifications. They obviously had taken on board what I had been saying because they contacted me to say that they had found various access courses with funding available to me. I'd like to do accountancy, or business studies, but I'll see how I get on with my access course.
So now, I find myself sitting with with an application form in front of me taking the first steps to a lifelong ambition of obtaining a degree at the Open University- all thanks to the wonderful support I have received from GAMH.