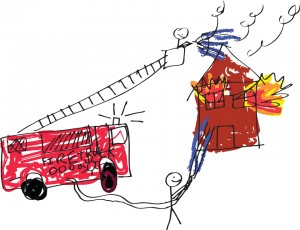 A post from Community Correspondent Joanna Riach
One Sunday night a few months ago an electrical fire broke out in the flat below me and the building had to be evacuated. I was very lucky that my daughter and I got out quickly and safely and that we were able to salvage most of our belongings. While I wouldn't wish this or any other crisis on anyone, I'm genuinely grateful for the impact the experience has had on my mental health.
Anyone who has ever lived with anxiety will be familiar with the "what if" thoughts. For some these are worst case scenarios or emergencies. But for many the "what if"s are about everyday responsibilities. "What if I sleep in for work?" or "What if I don't have clean clothes for the morning". As I sat in the ambulance while the paramedics did a routine check on my daughter's breathing it occurred to me how lucky we had been and how unprepared I had been for an actual emergency. What's interesting is that even when crises do happen, they're very rarely the same ones we've gone over in our heads. So the "what if"s don't help prepare us for genuine emergencies. That's why we have emergency services.
When I got back in to the flat to inspect the damage I noticed my daughter's school uniform, lovingly washed and hung up a few hours earlier, now saturated with smoke. Under the circumstances those everyday "what if"s now seemed trivial and even laughable. These thoughts don't get too much of my attention these days. I have learned that if things go wrong I can cope and that there are friends and family and if need be professionals there to support me.