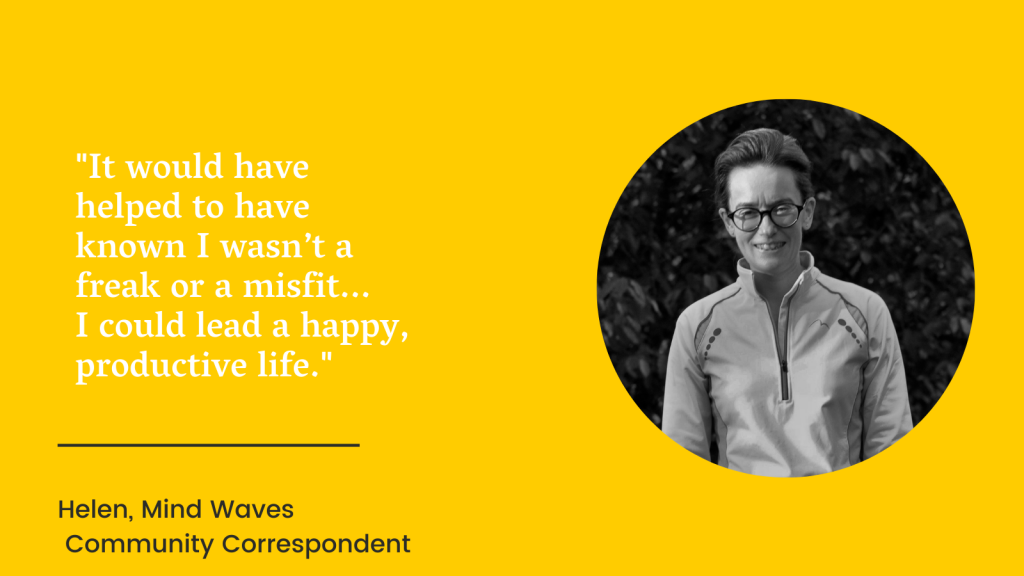 We're very proud that our volunteer Community Correspondent Helen has set up her own business supporting other autistic people with their lives and wellbeing.
We caught up to ask her a few questions about it.
What's the start up for?
I set-up Douglas Mentoring in early 2021, and I describe myself as a mentor and encourager. My overarching goal is to try and help improve the lives of those on the autistic spectrum, both indirectly and directly. I believe this can be primarily achieved by helping others to understand how very different the world can appear to those of us on the spectrum.
The tagline of Douglas Mentoring is: Because, I understand neuro-diversity. And I do. I am a 48 years old autistic woman. I have a history of childhood trauma and I've navigated depression since my mid-teens. After stepping away from a career in forensic science, I've been fascinated by human connection.
Why did you set it up?
During the past 5 years I've been involved in a number of volunteering roles. Most recently in an educational setting where a 17 year old pupil told me I was the first positive role model (as an autistic woman) they had ever encountered. I found that incredibly poignant and rather sad.
Over the last year I've been contacted by people wanting to understand more about the impact of neuro-diversity on either their loved ones and/or work colleagues. Parents of autistic children have been in touch, equally the spouses or partners of folk on the spectrum have contacted me.
With more and more adults, and women in particular receiving their diagnosis later in life, its not uncommon for relationships to suffer, and for marriages to break down. Its not unusual for autistic people to bounce in and out of employment, and indeed for us to under-achieve across all aspects of our lives. Which is fine is that's an informed choice. I'm not suggesting everyone should be a fighter-pilot. My work is about helping others to achieve what they want to achieve. I like to think that I empower and encourage, but in a compassionately supportive and gentle way.
Who might it be useful for?
Anyone who wants the inside track on what its like to be on the autistic spectrum. Parents, carers, teachers, and/or guardians of autistic children, managers whose workforce includes neuro-diverse members of staff. Perhaps you're looking to implement a policy in the workplace and would like to know what accommodations would be helpful and which would not.
I'm often contacted by adults contemplating an official diagnostic assessment. Understandably this can be an anxiety provoking experience, indeed just getting to a point of even deciding to pursue a diagnosis is a huge step. By working with me before and after a diagnosis, I can provide a vital element of continuity.
In addition to one-off sessions, I also offer open-ended mentoring with sessions scheduled at regular intervals to suit the client. That might be weekly, monthly or quarterly – I am totally flexible and completely open to all ways of working.
What difference do you think it would have made to you to have something like this available?
Having something like this available to me might well have helped prevent my mental breakdown in 2014. I went back to work after major surgery and that proved to be the straw that broke the camel's back. Increasing awareness in the workplace is just as important as facilitating conversations in the home. With the right facts and information available, everyone has a better chance to flourish. Very often, just a few simple adjustments can make a huge difference.
Likewise, to have had a mentor or positive role model growing up would have been hugely beneficial. It would have helped to have known I wasn't a freak or a total misfit and that there was a place for me in the world where I could lead a happy, productive life.
5. Why is it important that you are autistic?
I feel as an autistic person I am different. For me that is an undeniable fact. Recognising and accepting my difference has enabled me to embrace my differences rather than continue to try and adapt myself to a world tailored to the needs of the predominately neuro-typical population. The time spent on trying to fit in, by learning social conventions by rote for example, uses a disproportionate amount of emotional resources, which in the medium to longer term is not sustainable.
I am uniquely placed. I spent the first 20 years of my working life navigating the workplace as an undiagnosed autistic woman. I know first hand the pressures to conform, the bullying and micro-aggressions that are unfortunately all too common an experience for those of us on the spectrum.
Being autistic can be incredibly challenging. Living and/or working with someone on the autistic spectrum can be hard too but it can also be a beautiful, rewarding experience.
6. How can people get involved?