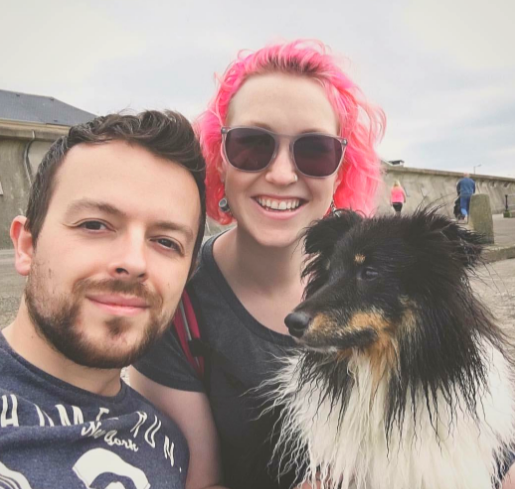 A post from our Community Correspondent Emma Goodlad @GoodladEmma
This is my dog Remus – no, not named after one of the fabled founder brothers of Rome, or one of the planets in Star Trek (although as a recently converted trekky I do like that reference). Obviously it's not as cool as either of those. He's named after Remus Lupin in Harry Potter – my favourite ever book series.
We got Remus in early 2015 and have never looked back (ok we did a couple of times). When people ask why we got a dog my husband, Andrew regularly jokes
"Emma was sad, so we got a puppy",
and it's not far from the truth.
Although we had wanted a dog for a while, we hadn't been in a position to, but at that point the timing was right and I was overcoming the trauma of having been on Queen Street when the bin lorry accident happened. I was suffering from anxiety and panic attacks as a result and although I was functioning, I was sometimes struggling to leave the house without having a reason to. So, it was the perfect timing to get a puppy and give me something else to focus on. And he did just that, he got me out of the house, into the fresh air for several hours a day and gave me another reason to keep going.
In the lead up to and after an attempt to take my own life last year, Remus gave me a reason to get up in the morning and get out of the house – because I had no other choice.  
This picture was taken about two weeks after my suicide attempt and to look at it you wouldn't think we were going through a difficult time – we are smiling and sitting in Saltcoats after a day out on the beach. I say a day, I think I had managed a grand total of 30 minutes, but it was exactly this sort of outing that kept me going. Between having to take Remus on walks and Andrew insisting we go different places to walk him, it truly has aided my recovery.
It's not been plain sailing with him – he drives me mad sometimes with his yapping, we cried a good few times when he was a puppy and wouldn't stop biting us, wondering what we had let ourselves in for; and still it can be incredibly difficult on a bad day to summon the energy to take him for a walk or play with him.
But last night just summed up why he is so comforting – I was having a terrible day and when I was crying, Remus moved from beside Andrew, over to me and just placed his head in my lap. This small gesture reminds me of the comfort he brings and his sensitivity to my moods – sometimes he runs away if I'm having a panic attack. (I get it, it's terrifying, I cry and hyperventilate very loudly) but other times, he just sits next to me, giving me comfort.
Having Remus around has really enhanced my quality of life, it's so lovely to go home and be greeted by that happy face and wagging tale and get a cuddle with all that fluff. He really has been instrumental in getting me through some of the hardest times of my life.  
Thanks Reems (p.s. stop sitting on my computer)