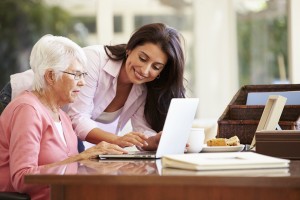 We spend a lot of time talking about the benefits of being online, but what about people who just don't have the skills or confidence to do it? Even the thought of signing up for a class, with all its school-style connotations can be intimidating.
That's why we love this idea from @GlasgowLife . Instead of formal classes, they offer one-to-one support with digital volunteers in local libraries. It seems like a great opportunity for people to learn more and a good, flexible way to volunteer to make a real difference to people's lives.
If you've ever helped your granny to use skype without losing your cool, you'd be perfect.  You can support people to make their lives better through technology, from simple things like texting and using a mouse to big things like applying for jobs and benefits.
Glasgow Life are looking for people who are over 16 and they will offer training, a t-shirt and expenses They welcome volunteers across the city, but are particularly keen to hear from people who can help out at Langside, Cardonald, Parkhead, Possilpark, Maryhill, Pollokshaws and the Gallery of Modern Art libraries.
If you're interested in volunteering, or there's someone you know who could benefit from attending, please contact Gail Mills on gail.mills@glasgowlife.org.uk or find out more here.