When troubled with mental health issues, one of the most common & biggest challenges is the reversal in your low self-esteem and low self-confidence. Everyone has their own personal journey of recovery to make and it often needs a little helpor nudge in the right direction. Health care professionals widely urge people to get back into their community whether it be through art, gardening, singing, or making music to name but a few. But can this really be beneficial?
One true success in Renfrewshire is community drumming group The Buddy Beat. Formed in September 2007 from a musical therapy project at Paisley's Dykebar Hospital by Lead Occupational Therapist Jeanette Allan and Community Musician Dr Jane Bentley, The Buddy Beat are a djembe drumming group for adults with lived mental health issues. Buddy Beat set out to promote social inclusion and provide a safe, non-threatening environment for its members.The Buddy Beat- more colour than a tube of Smarties!
One of the group's long-term members is Tom, who has been with the group for almost four years. "I was in a bad way early in 2008. I had closed down and was struggling to cope with life and my physchiatrist sent me to The Charleston Centre in Paisley for an eight week Assertiveness Management Course. On the very last session Dr Jane Bentley came along as a treat with her bags of djembe drums and held a thirty minute workshop. Something just clicked and for the first time in ages I felt my troubles ebb away. The very next day I plucked up the courage to go to Buddy Beat's regular weekly meeting, and I have been there ever since."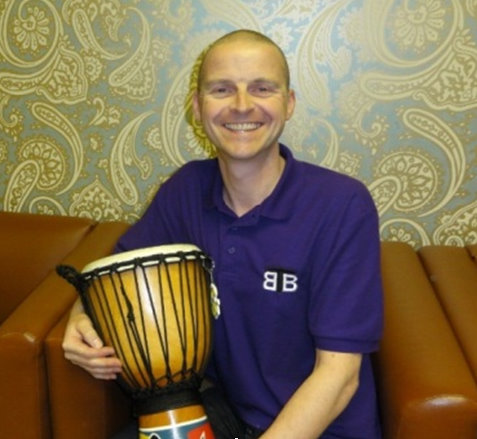 The Buddy Beat quickly established itself and within a year had 20 regular members. "It was all about getting together once a week and playing the drums, and connecting with the music," added Tom. "What was so special was the immediate feeling of being safe and it helped that everyone was in the same boat, so no one was there to judge you and it was okay to be open and say that you aren't feeling good, which was a breath of fresh air. Buddy Beat is certainly better than any prescribed medication."  Like many community groups, it is the friendships that spring up that make it all worthwhile. Tom continued, "All my adult life I have pushed people away as I found the pressure too much. Suddenly I had found a place where I learned to make new friends, but more importantly I realised that it was in fact okay to keep friends."
Meeting once a week in Paisley Arts Centre for two hours, the group never saw public performance as part of their remit, but a chance over-hearing of the group playing for themselves resulted in the groups' first booking in December 2007 at Paisley Museum as part of a cultural evening. That sparked an appetite within the group and since then they have travelled from London to Edinburgh and played at NHS conferences and held musical workshops in nursing homes, for adults with learning difficulties, young people with Asbergers and Autism, many mental health groups and taken part in several local festivals. "In fact we are very proud to have just achieved our 100th booking. Performance isn't for everyone and it is not compulsory by any means, but most of the group are eager to take part and it's our way to give back to the community and show that having a mental health condition should never hold you back. If people see what we can do then that can only help break down the walls of stigma that exist," said Tom.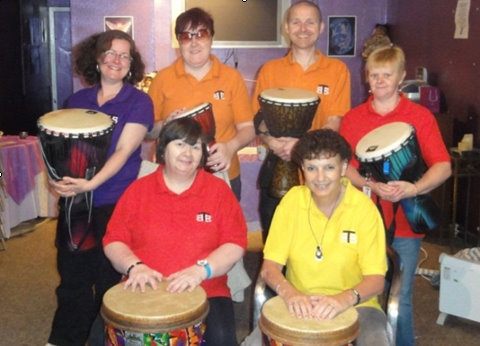 Being part of The Buddy Beat has helped people increase their self-belief and build their self-confidence. Some have taken up drama, one volunteers on the radio for RNIB, another saw her creativity reawakened which give her the impetus to start her own art group. Everyone has benefited from the group and the fact that many are long term members is testament to the addictive and healing power of the music. "We are a close knit group but at the same time we are very welcoming to new members and many of them stay with us when they see the caring and fun that goes on."
"Buddy Beat has given me back my life"
So what of the future for Buddy Beat? "Well," said Tom, "we have received grant funding which will enable us to go into Paisley's mental health hospital for an eight week programme to let patients try their hand at drumming and hopefully they will join us when they have been discharged. We also await word on further funding which will see us tour 12 local nursing homes in Renfrewshire where we will hold interactive musical workshops for residents and staff alike.When I look back, if it hadn't been for that chance encounter with Jane Bentley in 2008, I am unsure where I would be now. Being part of Buddy Beat has given me back my life and provided me with a reason to get out of the house. I now have better focus and drive, and I have learned to smile once more. I hope Buddy Beat never ends."
For anyone wishing further information on The Buddy Beat, please contact Jeanette Allan on 0141 314 4059 or check out www.buddybeat.co.uk
Story By T Chalmers