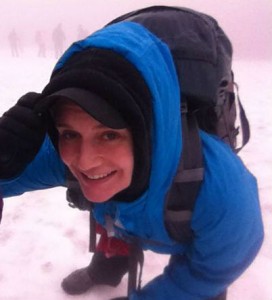 Where are you from/ where do you live?
I was born in Manchester but moved up to Scotland 14 years ago. I've been equated with the littlest hobo since then as I've lived in so many places around Scotland but have finally settled (very happily) in Glasgow.
Why are you interested in wellbeing?
This originally began with personally experiencing the benefits of taking better care of my wellbeing – including taking exercise, eating healthily and being mindful of sleeping well. I also love practising mindfulness, yoga and spending time in the great outdoors. I found that I became so passionate about promoting wellbeing that I made a career out of it! I still have the same passion for it even after working in the field for a number of years so I know I'm doing something right.
 What are you blogging about?
Films! As I love going to the cinema and watching films, especially films that stay with you forever.
 What makes you feel good?
I'm a real water baby so being in any form of water makes me feel good, whether it be a relaxing bath, a nice hot shower, a dip in the ocean or an awakening plunge in a cold loch! It's good for the soul!
 What makes you angry?
Oh the list here could be so long. If I had choose one thing, it'd be bed sheets that have buttons instead of press studs, it takes so much longer to change the sheets!
We're always looking for new community correspondents, find out more about getting involved here.
Emily's posts
I'm proud of being vulnerable: it's taught me how strong I can be
Emily's comfort food: Christmas pasta
I love Christmas, but if I'm feeling depressed or anxious, it's excruciating
The hundred year old man who climbed out of a window and disappeared- review
Winner of best resilience message in our #mwresilience photo contest
Reviews for Scottish Mental Health Arts and Film Festival:
Alive Inside review: http://mhfestival.com/news/festival-reviews/item/146-alive-inside-a-film-about-what-makes-life-worth-living
Beneath the Blindfold Review: http://mhfestival.com/news/festival-reviews/item/126-torture-survivors-show-us-the-true-meaning-of-courage
Theatre review – Tomorrow by Vanishing point http://mhfestival.com/news/festival-reviews/item/115-tomorrow-awakens-our-past-present-and-future-lives-review