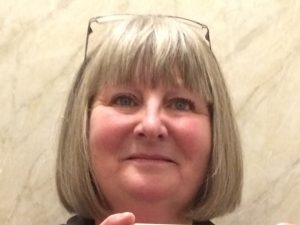 What's your name and where do you come from?
My name is Andrea O'Rourke and I live in Erskine but was born and bred in Maryhill.
Why are you interested in mental wellbeing?
I  am interested In mental wellbeing as I have lived with anxiety problems for many, many years, and I suffered from depression last year from which I am recovering.
What can we expect from you?
I would like to be able to provide support and understanding for people in the same situation as me, and to share what helped me to heal.
What makes you angry?
I've no time for dishonesty.
What makes you feel good?
My husband, my friends, crafting and a good book.