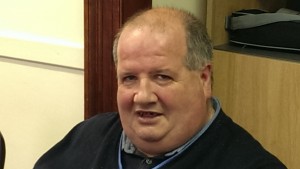 A post from our Community Correspondent John Dane
This month I thought I would write about something positive. At the beginning of the year, Jenny from GAMH asked if I would be interested in doing an accredited taster course in sociology.
I found myself saying yes, even though I hadn't a clue what sociology was about. So at the end of February we started an introduction to sociology. It is  a joint venture with GAMH, Glasgow museums and Queen Margaret University, so for six Mondays we went to Glasgow Museums Resource Centre. John, a lecturer from QMU, spoke about different aspects of sociology and in the afternoon, Elaine from the resource centre took us into the pods and we looked at art relating to the aspects of sociology.
I now find myself writing about two paintings by artist Andrew Hay: Springburn Tenement and Bute Mansions. I'm interested in learning more about how, even within Glasgow tenements there were very different classes of occupants.